« Obituaries | Warren Lee Witas
Warren Lee Witas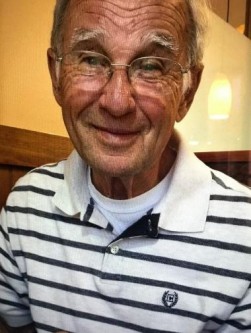 Date of Death: February 26, 2022
Date of Birth: July 17, 1936
Biography:
Warren Lee Witas, age 85, of Auburn, Maine, passed away peacefully in his sleep with family near his side on February 26, 2022. He was born in Rumford, ME on July 17, 1936 to Stanley Witas and Yvette Gauthier Witas Cormier. He married his wife of 64 years, Irene Monique LeBlanc Witas on November 6, 1957.
Warren graduated from Edward Little High School in 1954 and enlisted in the Navy in 1955. During his time in the Navy, he received many awards and commendations and furthered his education to become an Electrical Engineer. A talented artist, he had cartoons published in the Navy Times. Warren retired from the Navy as a Senior Chief Petty Officer in 1975. He then went on to work for the Civil Service, and then for private companies, completing his career with Lockheed Martin.
Warren was a devout Catholic. He was an active member of St. Louis Parish in Auburn, ME where he served as President of the Parish Council. He illustrated church bulletins, called BINGO, and taught catechesis with his wife, Irene. When St. Louis Parish closed in 2013, he became a member of Sacred Heart Parish in Auburn.
Warren took great pride in his family, his home, his work, and his cars. He loved spending time with family, gave the most genuine hugs, and personified kindness, humor, generosity and humility.
Warren is survived by his children Shari (Witas) Mendenhall and her husband Allan, Jeffrey Witas, James Witas, Jennifer (Witas) Malloy and her husband Micah and daughter-in-law Linda Witas. He is also survived by his grandchildren: Melissa (Witas) Hubert and her husband Joshua, Julia Witas, Sarah Witas, Jacob Malloy and his wife Grace, Megan Malloy, Lauren Malloy, Stacy (Mendenhall) Yannelli and her husband Brian, Shanan Mendenhall, Tammera Talley and Charli (Talley) Reynolds and her husband Bill, as well as his great-grandchildren: Helena, Liam, Willow, Elyssa, Bryce, Mathew, Victoria, and James. Additionally, he is survived by his sister, Elaine Labonte, and many beloved nieces and nephews.
He was predeceased by his wife Irene Witas, his eldest son Michael Witas, sister Barbara Sturgis and granddaughter Emilee Shaw.
Warren's family would like to thank Clover Manor Nursing Home and Androscoggin Home Healthcare and Hospice for the professional and compassionate care that was given to Warren during his final days.
A funeral Mass will be held at Sacred Heart Church in Auburn, ME at 11:00 a.m. on Saturday, March 5th, 2022. Graveside committal services will be held in the spring.  
His family asks that in lieu of flowers, donations be made to the Good Shephard Food Bank of Maine. Donations can be made by phone at 207-782-3554 ext. 1142, by mail at Good Shepherd Food Bank, PO Box 1807, Auburn, ME 04211-1807, or online at https://www.gsfb.org/get-involved/donate/