« Obituaries | Judith F. Wilson
Judith F. Wilson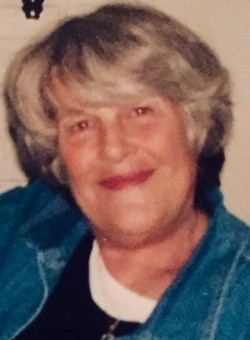 Date of Death: October 4, 2018
Date of Birth: August 23, 1943
Biography:
BRUNSWICK - Judith Forbes Elliott Wilson of 34 McLellan Street, Brunswick passed away surrounded by loved ones on Thursday, October 4th after a long illness.
Judy was born in Boston, Massachusetts on August 23, 1943, the eldest daughter of Albert William and Emma Laetitia Elliott. When Judy was nine, the family relocated from Newton Center, MA to South Freeport, Maine. It was there that Judy developed a lifelong love of the ocean, spending her Summers taking swimming lessons out of the harbor and sailing the rocky coastline of Casco Bay.
Judy attended Freeport schools, graduating from Freeport High School in 1961. In 1965 she earned her degree from Gorham State Teachers College (now University of Southern Maine). Upon graduation she taught history for SAD 75 for 32 years. After a brief retirement, Judy's passion for helping students realize their potential led her to take an Ed Tech position in the Freeport School system. She worked with all grade levels, but was especially fond of students she worked with in the alternative education program at the high school. She left a lasting impact on many of these students. She finally truly retired in 2016.
Also in 1965, the year of her graduation, Judy married Charles David McQuaid (Dave) and became a navy wife for thirteen years. She continued to teach during his deployment. In 1974, she welcomed her only child, a son, Mark William McQuaid.
Judy had many talents and interests: She was an adept sailor and member of the Harraseeket Yacht Club. She was a voracious reader and her knowledge of history could put most buffs to shame. After retirement, with her interests in genealogy and history, she became known as the family historian and was able to retell ancestral stories of exotic locales with great detail.
Judy was also very creative and artistic: she was a talented seamstress, dabbling in painting and woodworking as well. She took on home renovations like a pro, putting up sheet rock and installing trim.
Her appreciation of the arts also extended to music, The Kingston Trio was a favorite and she enjoyed live music events.
Judy loved gardening and took pride in her many crops of vegetables and herbs. She would can much of her harvest making delicious pickles, jams, relishes and preserves, often times becoming a family effort with her son and grandchildren.
Always a great cook and the consummate host, Holidays were often held at Judy's home, which she would open to family and friends alike.
A great conversationalist with a sharp wit and magnetic personality, over the course of her life, Judy developed many deep and enduring friendships.
Judy's three great loves of her life were her son Mark and his two children. She was endlessly proud of them and relished in having them close by, and seeing them every day. The role of doting grandmother perfectly suited her. She will be sadly missed.
Judy is predeceased by her parents. She is survived by her son Mark McQuaid, granddaughter Brynn McQuaid and grandson Jameson McQuaid, all of Brunswick, Three sisters, Sherry Stultz of Bath, Holly Elliott of Freeport and Susan Coffin of Wilton NH, and several nieces and nephews.
A celebration of life will be held Sunday October 28th at the Muddy Rudder function room in Yarmouth, people are invited to drop in at any time between 2pm & 5pm.
In Lieu of flowers, Donations can be made in her memory to the American Lung Association, 122 State St.,
Augusta, ME 04330.