« Obituaries | Marion G. Williams
Marion G. Williams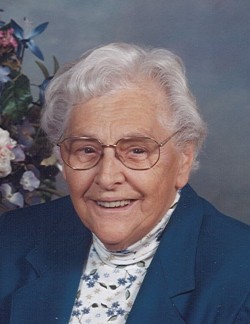 Date of Death: July 4, 2012
Date of Birth: September 20, 1923
Biography:
Augusta-Marion G. Williams, 88, of Pittston, passed away on July 4th, 2012 at the Augusta Rehabilitation Center. She was born on Sept. 20th, 1923 in Manchester, ME, daughter of George and Birdie (Tims) Webb.
She was a long time member of chapter 7 Eastern Star in Gardiner, ME, the Pittston Grange and also of the Brunswick Church of the Nazarene. She enjoyed playing cards and bingo and loved to read. She loved the church and church family, she always enjoyed helping when able. Marion especially enjoyed her time spent with relatives, neighbors, friends and all.
Marion attended schools in Pittston, and graduated from Gardiner High. She worked in shoe factories and the Worumbo Woolen Mills in between attending to chicken houses, gardening, farming and helping her husband in the woods before retiring.
She was predeceased by her husband, Richard H. Williams, a brother, and her parents.
She is survived by her brother Donald G. Webb and his wife Jean; her sisters-in-law Madeleine Webb and Laverne Williams; her brother-in-law-Howard Williams; and numerous nieces, nephews and cousins.
A graveside committal service will be held on July 14th, 2pm at the Oak Grove Cemetery in Gardiner.
Condolences may be expressed at Funeralalternatives.net