« Obituaries | James L. Williams
James L. Williams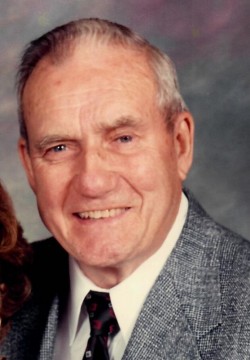 Date of Death: February 5, 2018
Date of Birth: September 5, 1926
Biography:
James L Williams 91, Of Livermore, Maine, died on February 5 ,2018 at his home in Livermore, Maine.
He was born in Livermore on September 5, 1926 to Amedie Williams Rose Veilleux Williams.
James very active in the Saint Rose Church of Jay, Maine serving as Lector, Catechist, Choir Member and manager of the Holy Cross Cemetery for several years. He was also past president of Livermore PTA.
He enjoyed gardening, landscaping his house and playing cards with his friends, and going on cruises with his wife. James especially loved spending time with his family and visiting with his out of state families.
James served two years in the US Army stationed in Hawaii, worked at the Bath Iron Works, A & P Food Store, and retired from
James River Paper Mill.
He was predeceased by his first wife Evelyn McCaffery who died in 1963. Surviving him are his wife of 53 years Jeannine Perron Williams, two daughters Karen (Larry) Hendren of Laurel Hill, Florida and Janet (Dan) Buote of Livermore, Maine and three sons Michael Williams of Hill, NH, Kevin Williams of Livermore, ME and Mark (Elizabeth) Williams of Weatherford, Texas. Eight grand children, six great grandchildren. Two sisters Lorraine Nutter and Theresa Hiscock.
There are no calling hours. Funeral Mass will be held on Saturday February 10 at 11 :00 am Saint Rose Church in Jay Maine.
In lieu of flowers donations can be made to the Saint Rose of Lima,Jay Maine, Charity Fund in memory of James Williams.