« Obituaries | Joan Soule Willey
Joan Soule Willey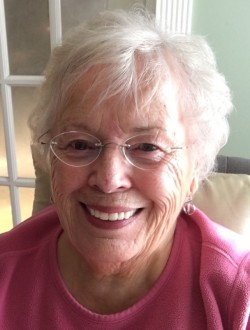 Date of Death: January 27, 2019
Date of Birth: February 27, 1931
Biography:
Joan Soule Willey, 87, passed away peacefully, surrounded by family, on January 27, 2019, after a brief illness.She was born in Waterville on February 27, 1931, graduated from Waterville High School, and married her sweetheart, Everett, in June, 1950. Together, they had six daughters. Joan worked as a devoted mother, but also as a nanny. She held administrative positions at doctor's offices, at the Boys/Girls club, and as a school aide. She also volunteered as a Scout leader, at Parkview Hospital, and at the Falmouth Fire Auxiliary. She was a member of Tuttle Road UMC.

Joan's greatest gift was the love and care she bestowed upon her family. She served as a maternal figure and role model to her daughters, grandchildren, and large circle of friends and family. Joan enriched the lives of everyone she met with her kind heart and her special sense of humor. Joan also enjoyed cooking, knitting, sewing, and journaling. She is survived by daughters: Carole Ray & husband, George; Wendy Desrochers & husband, Dennis; Jan Keith; as well as sons-in-law Michael Wolman; Ronald Pelletier & wife, Ning. Joan was proud to call Dr. Kamlesh Bajpai her adopted son. She is survived by nine grandchildren: Adam; Marc & wife, Tara; Jared & wife, Alaina; Amanda & husband, John; Benjamin; Emily & husband, Mathew; Craig & wife, Gina; Addie & husband, James; Ethan. Joan is also survived by 17 great grandchildren. All will fondly remember her special kisses and hugs.Joan was predeceased by her beloved husband of 68 years, Everett Harriman Willey; three daughters, infant Georgia Ann, Cynthia Wolman, and Nancy Pelletier; as well as son-in-law, Wayne Keith.

Joan's family would like to extend their heartfelt thanks to her compassionate caregivers who she held dear to her heart.
A Memorial service and reception will be held Saturday March 9, 2019 at 1 pm at the Tuttle Road United Methodist Church, 52 Tuttle Road, Cumberland Center. In lieu of flowers, memorial contributions are welcome and should be sent to Tuttle Road United Methodist Church.