« Obituaries | Veo Antoinette Willey
Veo Antoinette Willey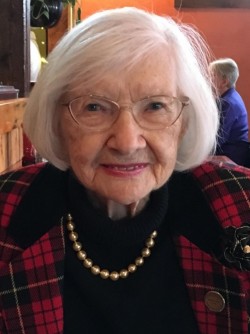 Date of Death: June 1, 2017
Date of Birth: September 21, 1914
Biography:
NORTH YARMOUTH - Veo Antoinette Willey (Thompson maiden name), lived 102 ½ years and passed away in North Yarmouth Maine, at 7:34pm June 1st, 2017.

Her life was rich with a passion for archeology and geology; she gathered an extensive collection including a 460-million-year-old fern bud. An avid reader of all history and spirituality. She lived by the quote "she was not a human being having a spiritual experience, she was a spiritual being having a human experience."

She loved to teach and was an Eastern Star. She was a loving mother of four children, Carol, Carl, Stephanie, and her deceased daughter Lynne, and loving grandmother of Dina, Katie, Matthew, Doug and Krista. There will be an informal gathering on Sunday June 18th from 12 noon to 2pm at 488 Mountfort Road, North Yarmouth, ME.

I will miss our long talks and getting lost on the roads of Maine with her. She was an inspiration to many and hopefully will remain in their hearts and memories, as she will in mine.