« Obituaries | Lois Koerber Wilcox
Lois Koerber Wilcox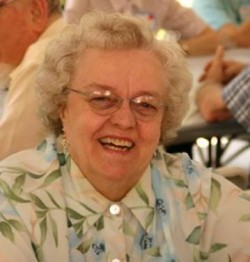 Date of Death: December 4, 2014
Date of Birth: October 17, 1930
Biography:
Lois Koerber Wilcox, 84, died Thursday, December 4 at the Highlands Cadigan Lodge in Topsham, Maine with her family by her side.

Lois was born October 17, 1930 in Pittsburgh, Pennsylvania to Ralph & Edith Koerber, joining older brothers Ralph and Everett. Lois showed amazing musical talent at a very young age. After an audition at the radio station KDKA in Pittsburgh, Lois was given her own radio program starting at age 9 until age 15 when she retired from the station to star in her high school musicals. As a young girl, she was very active in Mt. Lebanon Presbyterian Church in Pittsburgh where she was a church soloist.
After high school, Lois, nicknamed Taffy for her blonde hair, went to Washington, D.C. to work as a "G girl" or government girl at the Pentagon to raise money to attend Muskingum College, which she attended for a year. While in D.C., her musical talent was once again discovered. She became a performer with the USO and flew to numerous locations to bring music and entertainment to the troops. After singing at a government event, she received an invitation to sing at the White House in the East Room where she sang for President and Mrs. Eisenhower and Cabinet members. She was 22 when she shook President Eisenhower's hand and was invited to his inauguration. Lois left her government job to become the singing star at The Lotus nightclub in Washington, D.C. She also came in second place in the Miss Washington D.C. Pageant. Her talent, beautiful smile, and love for others always drew people to her. She left her singing career upon marriage to Richard Wilcox and beginning a family.

Lois excelled at secretarial work, including working with her daughter Bonnie in Baltimore for the LPGA, son Rick for 3 years, and later as the assistant to the owner of the Pimlico Racetrack in Baltimore. She was up to the challenge of any position she held and was begged to work part time after she retired from her position with Howard County in MD in the mid 1990s. She moved from Baltimore to Topsham in 2001 to be with family and kept many old friends while making new ones. A very quick learner, she loved playing games of any kind with her family or friends, and made a formidable opponent. She loved fireworks, chocolate, and cats. She enjoyed the Maine State Music Theater, the Portland Symphony Orchestra, and leading the choir at the Highlands in the early 2000's.
Lois always believed her greatest calling was mother and grandmother to her family. She had a positive attitude and brought humor, music and the love of animals to her family. She would worry about any animal she felt was neglected or in need. She is survived by her children Rick and his wife Laurye of Topsham, Maine, Ken and his wife Robin of Edmonds, Washington and Bonnie (Bienert) and her husband Tom of Crystal Lake, Illinois, as well as 11 grandchildren and 7 great grandchildren.

A Celebration of Life service will be held on Sunday, December 7 at the Highlands Main Lodge Georgetown Parlor, 30 Governors Way, Topsham, Maine at 10:00 a.m.