« Obituaries | Lawrence 'Swede' T. Whitney
Lawrence 'Swede' T. Whitney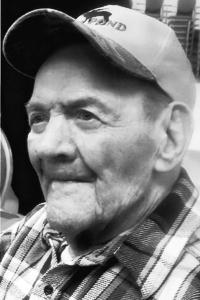 Date of Death: November 28, 2014
Date of Birth: May 28, 1921
Biography:
Lawrence "Swede" Thomas Whitney
May 28, 1921 - Nov. 28, 2014
 Swede's three nieces Jane, Sheila, Heidi and nephew Armand were at his side when he passed. 
Swede was born in Portage Lake on May 28, 1921. He was the son of Odhber and Amanda Cote Whitney. The family moved to Augusta where he graduated from Farrington Grammar School and Cony High School, class of 1940. He was selected as an all-state football player and was the captain of the 1939 team. 
Swede was in the Navy during World War II, where his ship was torpedoed and sunk in the Mediterranean Sea. He was one of the few survivors. He served from 1942-1946. After the Navy, he worked at Jordan's Meat Company, Capitol Lumber and Mutual Lumber Company with his brother Don. 
Swede was a great lover of sports and the great outdoors. He loved hunting and fishing with his buddies Whipper, Teddy, Paul, Gary, Glen, Bill and Don up at Moosehead and Mud Pond ("Where it doesn't get any better than this"). He was also quite a good cook and enjoyed doing the cooking with Paul for the guys at camp. Swede was a kind and generous man who was loved by many and will certainly be missed by all his new friends and special longtime friends. 
While at the Maine Vets Home, he made many friends with all the wonderful staff, from the top to the bottom, his fellow veterans and their visitors. You could always find Swede wearing his orange Mud Pond hunting hat wheeling from unit to unit gathering up coffee, doughnuts, and cookies as he went. 
He was predeceased by his brothers, Oren, Harold, and Donald P. Whitney, his sister, Pauline Stacy; his sisters-in-law, Thelma Whitney, Verna Whitney, Ameila Whitney; and his nephews, Donald L. (Beau) Whitney, and Dennis Whitney. Swede is survived by his nieces and nephews, Judith LeClair, Falls Church, Va., Jane Malinowski, West Gardiner, Sheila Brennan, Thomas Whitney, and Donna Nutting, all of Augusta area, Katharine Mitton, Margaret Coyne, Wanda Kennedy, Walter Whitney, Stanley Whitney, all of Portland area, and Cindy Luke, of Virginia; as well as many great-nieces and nephews. 
The family wants to thank the staff at the Maine Veterans Home and the Hospice staff for the kindness and care that you gave to Swede.
You were loved by many and will be missed by many more.