« Obituaries | Albert J. White Jr., BG
Albert J. White Jr., BG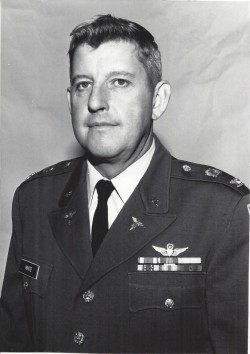 Date of Death: December 16, 2016
Date of Birth: October 29, 1936
Biography:
WEST BATH - Albert J. White Jr. BG (RET), 80, passed unexpectedly Friday December 16th, 2016. He was born October 29th, 1936 in Bath, Maine, the son of Albert J. Sr. and Hazel (Brissette) White. He graduated in 1955 from Morse High School where he was a member of the National Honor Society and also played on the football team. After graduation he went into the apprentice program at Bath Iron Works in the machine shop. On September 28th, 1956 he married the former Jean Pettingill.

In 1958 he attended Maine Military Academy graduating in 1959 as a 2nd Lieutenant. He attended Armor Officer Basic at Fort Knox Kentucky. From there he attended flight school at Fort Rucker Alabama, where he graduated in July 1960. After finishing helicopter transition school he went to work for the Maine Army National Guard where he stayed for 25 years. In 1966 he became Flight Activity Commander, which moved him and his wife to Bangor. He retired in July 1989 after serving 34 years in the MEARNG.

He attended many service schools and received many awards including the Meritorious Service Medal, The Legion of Merit, Army Commendation Medal, and Master Aviator Badge. On March 2nd, 1994 he was promoted to Brigadier General by the Governor of the State of Maine.

He enjoyed fishing and hunting with his best pal Don White. His goal in later life was to reach 80 years old. Thanks to Dr. Hill, Dr. McCormick and Dr. Schafer for helping him reach his goal.

He was preceded by his parents, his in-laws, Robert and Olive Ward and Albert Pettingill, and brother in law Robert Percy Sr.

Survivors include his wife of 60 years; his four sons, Michael and Wife Nancy White of Lake Dallas, Texas; Mark White and Rod Kulmahn of Stateline, Nevada; Terry and wife Melissa White of Hermon, Maine; Russell White and former wife Velvet Brown of Bangor; four grandsons, Phillip and wife Monica White of Argyle, Texas; Russell and wife Holly White of Norway, Maine; Brandon and Zachary White of Bangor; two granddaughters, Sunny White of West Bath, and Amanda and husband Brandon Hayes of Denton, Texas; two great grandsons, Isaac White of Norway, ME, and Easton White of Argyle, TX; two sisters, Patricia and husband Daniel Chick of Westbrook, and Edna and husband Patrick McTeague of West Bath; brother-in law James and wife Pam Ward of West, Bath; a sister-in law Patricia Roy of Jackman; several nieces, nephews, and cousins; and a special family, Patrick, Jane and Kayla DeWitt of Michigan.

Contributions may be made to the Maine Military Historical Society, 33 State House Station, Augusta, ME 04333-0033.

A Memorial Service and Burial will be held at the Maine Veterans' Cemetery on Mt. Vernon Road in the spring.