« Obituaries | Marjorie Whitcher
Marjorie Whitcher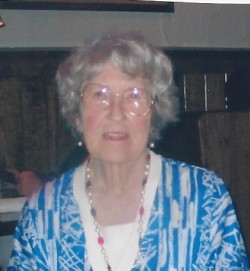 Date of Death: January 20, 2013
Date of Birth: February 26, 1918
Biography:
Lisbon- Marjorie Whitcher passed on January 20th at the Lamp in Lisbon, Maine, due to
complications from the flu. Marjorie was born in Haverhill, Mass. on February 26,1918 to
Frank and Charlotte Herrick.
Marjorie attended high school in Lewiston, Maine and graduated with the class of 1936.
She also attended nursing school at the Central Maine General Hospital.
Marjorie spent most of her career in the management of three stores in Lewiston. The S&H Green Stamp Store, Gold Bond Stamp Store and So-Fro, a fabric store in the Lewiston Mall. Marjorie also ran a nursery for preschool children in Auburn.
Marjorie was a member of the Court Street Baptist Church in Auburn where she was also a Sunday School teacher. Marjorie spent her retirement years in New Port Richey, Florida with her dog Sunshine.
Marjorie is survived by a daughter Carole Rosenberg and her husband Dick of Sabattus, a son Robert Higgins of Sanford and a son Paul Whitcher and his wife Serena of Windham. She is survived by a granddaughter Karen Goodwin and her husband John of Lewiston, a granddaughter Robin Profenno-Woodcock and her husband Arthur of Lisbon, a grandson Michael Profenno of Lewiston and a grandson Kris Profenno and his wife Karen of Auburn, granddaughters Sarah and Hanah Whitcher of Windham, grandsons Zane, Jake and George Whitcher of Windham and a granddaughter Jenna Veurink of Gorham, a granddaughter Jennifer Teets in Virginia. Marjorie had many great grandchildren as well as great great grandchildren.
Marjorie was pre-deceased by a son, Gary Higgins of Casco. a brother Robert Herrick of Auburn, a brother Malcolm Chard of San Antonio, California a granddaughter Rebecca Chiam of Virginia and a great grandson Jeffrey Profenno of Lisbon,Maine.
Marjorie's daughter and family would like to thank the staff at Odd Fellows Facility and the staff at the Lamp for their patience and loving care.
Friends and family are invited to a Memorial Visitation from 10am to 11am on Friday, Jan. 25, 2013 at Funeral Alternatives, 25 Tampa St. in Lewiston. A Memorial Service will be held after the Visitation at 11am.