« Obituaries | Elizabeth "Pinkie" Whipple
Elizabeth "Pinkie" Whipple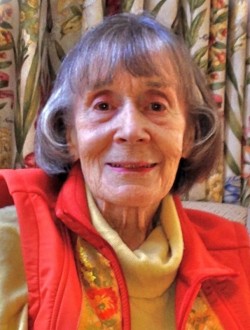 Date of Death: November 20, 2014
Date of Birth: March 25, 1922
Biography:

TOPSHAM - Elizabeth Lasell Whipple died peacefully in her sleep on November 20th at the age of 92. In her final days she was surrounded by her loving family and friends.

Elizabeth Whitin Lasell (affectionately known as Pinkie because her face turned
pink when she cried as a baby, although she often said it was because of her red
hair) was born in 1922, a twin sister of Katharine, and older sister of Sonia and
John. The daughter of John Whitin Lasell and Frances Sumner "Happy" Lasell, she
grew up in Whitinsville, a small mill town in central Massachusetts. When Pinkie
was 21, her father was missing in action in World War II after his plane was shot
down over Burma. During the war Happy took a job as women's personnel director
at the Whitin Machine Works, the family-run textile machinery business. She also
built a house in Small Point, Maine, where the family spent summers with their
cousins in the Sewall family.
Pinkie attended Chatham Hall and Pine Manor College and taught kindergarten
before she met and married William Jenks Whipple in 1944. Pinkie and Bill moved
to Grafton, Massachusetts and raised five children: John, Bill Jr., Chris, Sue, and
Lasell. They lived in a modern house on Wheeler Road designed by Bill Sr., who
was president of the R. L. Whipple Company from 1960 to 1989.
The family took great pleasure in spending time with their wonderful friends in
Grafton, Worcester, and Small Point, where they spent their summers. In 1996
Pinkie and Bill moved to the Highlands in Topsham, Maine. Bill died at the age of
90 in 2006.
Pinkie was an avid tennis player and taught piano for many years. Outgoing and
energetic, she was a loving and supportive mother who took her children on skiing
trips and travel adventures. For many years she volunteered to play the piano for
the annual Small Point musicals.
A red-headed beauty, she was known for her warmth, her thoughtfulness, and her
courage in the face of adversity. She had an admirable belief in the power of
positive thinking and maintained a strong faith, leading her to write: "Some of us
have been forced to discover this Power within because of a need for help or
healing. Those who are able to draw on this source are those who love most deeply
and who help themselves and their fellow man to the greatest extent." She often
had an infectious enthusiasm for life, and her nonjudgmental kindness and interest
in others generated a large network of loyal friends.
She will be dearly missed by five children, and nine grandchildren. They are John
Whipple and his wife, Tish, of Portland, Maine and their children Ezra, Hannah
and Ben; Bill Whipple of Seattle,Washington; Chris Whipple and his wife, Lois, of
Montclair, New Jersey and their children Risa and Nick; Sue Whipple and her
husband, Phil Peverada, of Hampden, Maine and children Mike, Chris, Molly and
Katie; and Lasell Whipple and her husband, John Torgerson, of Oakland,
California. She will also be lovingly remembered by her brother, John Lasell of
Los Angeles, as well as a wide circle of extended family and devoted friends.
A memorial service will be scheduled in Small Point, Maine next summer.