« Obituaries | Walter Wheeler
Walter Wheeler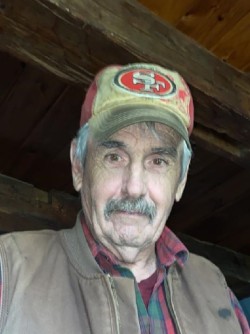 Date of Death: September 29, 2022
Date of Birth: June 11, 1947
Biography:
LEWISTON-Walter Wheeler, 75, of Bowdoin, passed away peacefully on September 29th surrounded by his family. Walter was born June 11, 1947, the son of Ellery and Vivian (Curtis) Wheeler. He was a graduate of the Lisbon High School class of 1965.
 
Walter served six years in the Army National Guard during the Vietnam era. 
 
He retired from Hahnel Brothers construction after 41 years.
 
He enjoyed watching NASCAR, football on Sunday with the guys, and was always tinkering on his tractors and 37 Chevy. His grandson Alex was the one that kept him occupied during his retirement with his endless projects that became "theirs".
 
Walter is survived by his wife of 53 years Linda (Henthorn) Wheeler and their three children: Darci Wheeler and her husband Mike Hauser, Staci and her husband Steve St Pierre, Jason (Jdub) Wheeler and his partner Sarah Harrington. Grandchildren: Alex (Haley) LaPierre, Kyle Brown, Cheyanne and Alexis Wheeler, Steven St Pierre, Hannah and Alexandra Hauser and soon to be great grandson LaPierre. Brothers: Kenneth (Jane) Wheeler, Wendall (Carol) Wheeler. Brother-in-law: Charles Chase. Nieces and Nephews.
 
He was predeceased by his parents and sister, Shirley Chase.
 
A celebration of life will be held Saturday October 15 from 1 to 4 pm at the Ramada Conference Center, 490 Pleasant Street, Lewiston, ME.
 
In lieu of flowers the family requests that a donation be made in Walter's name to a charity of your choosing.