« Obituaries | Colleen Weston
Colleen Weston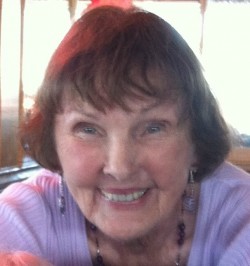 Date of Death: December 31, 2017
Date of Birth: July 19, 1930
Biography:
Colleen Weston, 87, of Auburn Maine died on December 31st, 2017 at Central Maine Medical center in Lewiston.
She was born on July 19th, 1930 to Herbert and Harriet (Waite) Libby in Millinocket, Maine.
Colleen graduated from Stearns High School in 1947 where she was very active playing cello, piano and bass drum in the school orchestra and marching bands. She played her beloved piano throughout her life as well as the bass drum in community bands. She loved to ski and enjoyed camping and hiking with her family. She enjoyed gardening and her years as a member at the Garden Club Federation of Maine. She also enjoyed hand braiding rugs, and her beautiful rugs will endure for years to come.
She worked as an executive secretary at Depositors Trust Co. through the 60s, and then as a devoted wife and mother. She loved keeping her home warm and welcoming to her family and friends.
Colleen was predeceased by her parents; her brother, Mort Libby; and her partner, John Decker.
Surviving her are son, Forest Weston; daughter-in-law Lynn Cummings; her grandchildren, Lori, Todd, Shea and their families; as well as numerous cousins, nieces, nephews, and much loved in-laws.
Services will be held at the West Auburn Congregational Church on Sunday, January 28th, 2018 at 3:00pm. Please make donations in her name to PALS No Kill Cat Shelter, 188 Case Rd. Winthrop, Maine 04364, www.palsnokillshelter.org, or to Community Cat Advocates in Buckfield at www.communitycatadvocates.com