« Obituaries | Dwight K. Westleigh
Dwight K. Westleigh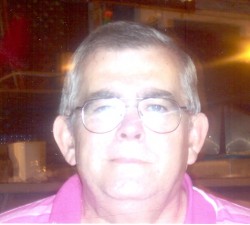 Date of Death: July 5, 2010
Date of Birth: August 21, 1949
Biography:
AUBURN – Dwight K. Westleigh, 60, of Lewiston, passed away on July 5th, 2010 at the Hospice House with his loving family by his side.
He was born on August 21st, 1949 in Portland, the son of Kenneth and Frances (Small) Westleigh.
After high school and Faith School of Theology, Dwight married Vicky Stoddard and they were long time residents of Lewiston. He also graduated from C.M.V.T.I. as a culinary arts student. He worked afterwards at several area restaurants including Steckino's, Jimmy's Diner, Village Inn, and Bert's Restaurant.  Dwight started The Church of God in Auburn in 1978 and was also a Pastor in Somerville, Me.  He also worked for many years at J.C.Penney and Lamey Wellehan.
He was member of First Assembly of God Church. He enjoyed playing softball with the Flies and was voted MVP, watching sports, traveling, attending his girls horse competitions, and especially enjoyed spending time with his family. He was always proud of the fact that he was able to help build Elliot Little League Field many years ago.
He is survived by his beloved wife Vicky; mother Frances Small  and husband Milfred Wesleigh of Lewiston; children Rachel Adamen and significant other George Smith of Auburn, Jessica Westleigh and significant other Matthew Humphrey of Puerto Rico, Krystal Westleigh of Lewiston, Dwight Westleigh II and fiancé Stephanie Brownell of Wales, Austin Westleigh of Lewiston, Kelsey Westleigh of Lewiston; brothers Bruce Westleigh and wife Sandy of Lewiston, Wayne Westleigh of Lewiston, Richard Lachance of Turner, Robert Lachance of Auburn; four grandchildren; several nieces, nephews, and cousins. He was predeceased by father Kenneth Westleigh, children Christine, Kenneth , Jennifer, Stephanie; grandmother Anna Small; and stepfather Robert Lachance.
Dwight's greatest joy was adopting Austin and Kelsey a few years ago from birth. He stated often that they gave him and Vicky a second life to live.
The family would like to thank the Hospice House and Central Maine Medical Center for there kindness in caring for Dwight.  
Family and friends are invited to visit on Thursday, July 8th, from 11 AM to 12 PM at First Assembly of God Church, Hogan Road, Lewiston, with  a service to follow at noon. Burial will follow at Mt. Auburn Cemetery. Luncheon to follow at First Assemly of God after committal service.   Condolences may be expressed at FuneralAlternatives.net Arrangements by Funeral Alternatives Group, Lewiston.