« Obituaries | Milford G. Westleigh
Milford G. Westleigh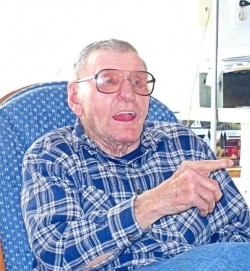 Date of Death: January 12, 2011
Date of Birth: May 20, 1927
Biography:
Milford G. Westleigh, 83, of 57 Village Dr. Lewiston, passed away Jan. 12, 2011 at the Hospice House.
He was born in New Sharon on May 20, 1927 the son of Francis and Stella Westleigh.
Milford was a member of Harvest Hills Church in Auburn, and he loved to play cribbage at the Sabattus American Legion.
Milford enjoyed doing picture puzzles and circle word books, and loved watching the Red Sox.
He worked for Pepsi Bottling Plant, Bates Mills, and Hemingway Transport on the loading dock.
He was predeceased by five brothers, Arthur, Sherlon,, Albert, Roland and Kenneth; three sisters, Florance, Arlene, and Margarette; and also several nephews and one stepson, Dwight.
Milford is survived by his wife, Frances Small Westleigh; two sisters Charlotte Duchette and Georgette Brooks; and stepsons Bruce, Wayne, Scottie and Richard.
Visiting hours will be held Saturday, Jan. 15th, 2011 at Funeral Alternatives, 25 Tampa St. Lewiston from 1 to 2pm, with funeral service to follow. Burial will be held privately at a later date at Maine Veteran's Cemetery.
In lieu of flowers, donations may be made in Milford's memory to the Hospice House, 236 Stetson Road, Auburn, ME 04210