« Obituaries | David Jesse Wessel
David Jesse Wessel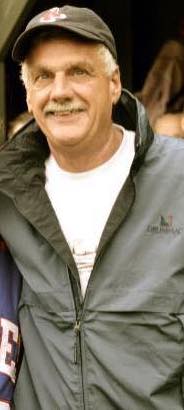 Date of Death: September 15, 2022
Date of Birth: September 1, 1955
Biography:
David Jesse Wessel of Harpswell, Maine passed away peacefully at home on Sept. 15th, 2022, at age 67.
David was the youngest of two children born to Sarah "Sally" and Tilden Wessel. David was born on Sept. 1st, 1955 in Blue Hill
Maine, and lived there for three years before moving to Harpswell Maine, where he spent the majority of his childhood..
David proudly devoted many years of his life to the sea. At age 16, David built his first skiff under the guidance of Henry Allen. He
worked the skiff hard and found his life's calling hauling lobster traps, digging clams, and raking sea moss. He was also passionate
about coon hunting, duck hunting, and deer hunting. David was active in the Boy Scouts and achieved the level of Eagle Scout -
second only to Junior Allen who was Hapswell's first Eagle Scout. David had a love of sports cars and antique cars. He enjoyed
going to the Owls Head antique car shows each year. On the weekends David looked forward to giving his Pontiac GTO a little juice
down Route 123 on his way to the Stover's Point bonfire.
After graduating from Mt. Ararat High School, as the first graduating class, David earned a degree in Marine Mechanics at SMVTI in
South Portland and then went on to join the Coast Guard. There he earned First Class Machinery Technician and graduated as an
E6. David was awarded the Good Conduct Award in 1980. He worked on SNOHOMISH out of Rockland, Maine, and was stationed
aboard the USCG cutter SHERMAN. On the ship between duties, you could find David knitting trap heads below deck for his lobster
traps for when he returned to his beloved Harpswell.
After four years of service to the USCG, David returned to Harpswell and the lobster fishery. David acquired the 30' SANDPIPER
and fished out of Interstate Lobster located in Ash Cove in Harpswell. After many years, and many boats David fulfilled his dream to
try offshore fishing which he did in a 55' DUFFY and a 65' DMR. After a hard day's work, David would cook supper for his crew.
David loved to cook his famous meatloaf and made sure his family knew whenever it was Italian Wednesday Spaghetti night.
After 5 years of fishing offshore, David had his brother Steve Wessel build the very 1st Wesmac boat, a 42-footer which he named
after his daughter, Maggie May. The MAGGIE MAY was David's pride and joy and it won first place in the Harpswell Lobster Boat
Races even with a full boat load of people, deck chairs, coolers, and a grill on board.
When David wasn't lobstering he was out swordfishing with his crew from Harpswell. He would bring tuna fish and swordfish to the
Portland Fish Market. When David retired from fishing he moved on to become the head Mechanical Engineer for the Amtrak
Downeaster in Portland/Brunswick for many years (20+ yrs). That is where he met his beloved wife Myrna Wessel (Gonzalez) with
whom he shared a very special relationship.
Myrna knew David as a wonderful husband, beloved best friend, and astounding father and grandfather. They enjoyed 15 magical
years together until his recent passing. A majority of their time together was spent cracking jokes and making one another laugh
until they cried. Myrna loved to cook David her famous Spanish rice for movie night which usually consisted of The Godfather, The
Sopranos, Moonstruck with Cher, or anything Al Pacino.
David was survived by his beloved spouse Myrna Wessel and his stepson Andy Reyes and stepdaughter Carlin Beige who he cared
for dearly. He was also survived by his wonderful brother Stephen Wessel and his lovely wife Linda Wessel. David shared a very
special relationship with his three children, Tilden (TJ) Wessel, Nils Wessel and his only daughter Maggie Wessel, with his former
spouse Kim Wessel. David was also survived by the wives of his two sons Jolene Wessel and Jessie Wessel. David was a
wonderful grandfather and had so much love for his grandchildren, Grace Wessel, Matti Wessel, Chloe Bailey, Adrian Reyes Jr.,
Juliana Reyes, and Romeo Reyes.
David was extremely proud of and had so much love for his two boys who followed in their fathers footsteps and are currently
lobstering in Casco Bay today. When the boys were little they loved to be with their dad who taught them how to patch traps and
paint buoys.
The many members of the Harpswell community and Amtrac family will fondly remember David for his generous heart and his silly
antics... David always had a special way of making new people he met feel like he had known them for years. You would always
pass by David with a sparkle in his eye and a smile on his face.
Please join us on Saturday, October 8th from 2:00-5:00 pm at Erica's Seafood located at 505 Basin Point Rd, Harpswell ME for
David Wessel's celebration of life. This event will be BYOB and food will be available for purchase at Erica's Seafood stand.