« Obituaries | Keith D. Wentworth
Keith D. Wentworth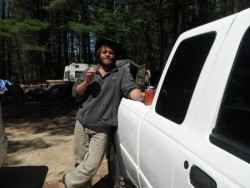 Date of Death: October 31, 2013
Date of Birth: December 23, 1966
Biography:
Keith Douglas Wentworth, 46, of Freeport, died on Thursday, October 31st at Parkview Hospital in Brunswick.
Keith was born on December 23rd 1966.
Keith loved music, singing, and dancing. He loved sports, especially baseball and football. Keith was most likely the best baseball pitcher in Maine during high school, and one of the best baseball pitchers Freeport High School ever had, and still holds some of their records. Keith loved his family, his friends, and his dogs. He loved yard sales, gardening, and of course, fantasy football. Keith spent the last year of his life sober after many years of drinking, and for that, his family was so proud, and still grateful to have been able to have that time with him.
For about 15 years, Keith ran his own rubbish removal business following his father Kermit, and older brother Daniel Wentworth. More recently, Keith worked for Hancock Lumber for about 10 years.
Predeceased by his father Kermit Wentworth, and his step father Wallace Britton.
Survived by his wife Kelly Connors, mother Winnifred Britton and her fiancé Charlie Nadeau, his step mother Pamela Wentworth, siblings Daniel, Kathy, and Eric Wentworth, Melissa Bond, David and Daniel Britton, and Melody Hilton. He is also survived by his three daughters Nicole Paul, Felicia and Dominique Wentworth, and stepson Zachary Fitz. He is survived by his grandchildren Kashtin Smith, Colby and William Chipman, and William Fitz, and many more relatives and friends.
Family and friends are invited to a graveside service at Grove Cemetery, Pleasant Hill Road, in Freeport 11:00 AM Monday, November 4th.
Following the service there will be a gathering of friends and family in celebration of his life, at Durham Amvets Hall.
In lieu of flowers, donations to Freeport school athletics.