« Obituaries | Jeanne "Jan" Wentling
Jeanne "Jan" Wentling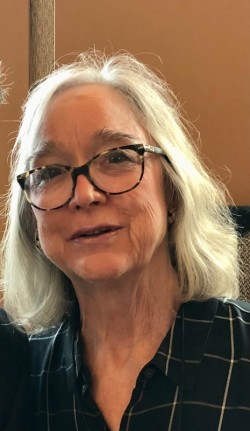 Date of Death: November 17, 2022
Date of Birth: August 1, 1947
Biography:
Falmouth - Jeanne "Jan" Knight Wentling, 75, died peacefully in her sleep on Thursday, November 17, 2022, at home in her bed with love and light comforting her.
Jan was born to Richard N. and Ann (Philbrick) Knight, on August 1, 1947, in Philadelphia, Pennsylvania. She had two brothers, Richard Newman and John Philbrick. Growing up, Jan attended Agnes Irwin School where she found her love of lacrosse and field hockey, in which she was an All-American. Jan went on to study interior design at Bradford College and graduated from University of Denver where she met the love of her life, Joseph D. "Joe" Wentling III. They were married in Bryn Mawr, Pennsylvania on June 13, 1970 and moved there shortly after to start their life together. 
Jan's love of art and beauty blended into a life-long love of horticulture and design. She studied at Longwood Gardens and the Barnes Foundation in Pennsylvania, developing her love for landscape design and flower arranging. A member of garden clubs wherever she lived, Jan also started a small landscape design business in both Pennsylvania and Maine. She enjoyed volunteering her time, including decades of volunteer work at Paoli Memorial Hospital as well as altar guilds and flower arranging for the multiple churches she belonged to. Jan was an avid skier, dancer, and golfer and was proud of her two hole-in-ones! She loved traveling and finding the gardens wherever she was in the world.
Jan summered on Chebeague Island, Maine at her long-time family summer home where she made lifelong friendships. In 2007, Jan and Joe moved permanently to Pownal, Maine to be closer to their children, grandchildren and the Island. Her final years were spent as a resident at OceanView in Falmouth, Maine.  The staff and her close friends there became a second family to Jan that she looked forward to seeing everyday. She taught us all to seek, find and create happiness and sunshine.
Predeceased by her adoring husband Joe, Jan is survived by Daughter, Polly Fisk Wentling Wentworth (Kevin) of Chebeague Island, Maine; Son, Benjamin Crouse Wentling (Leah) of Cumberland, Maine; Four grandchildren, Alden, Olivia, Clara and Amelia; Brothers, Richard N Knight III (Lynne), John P. Knight (Yvonne) and eight nieces and nephews.  Funeral service will be held on Saturday, December 10, 2022 at 2pm at St. Mary's Episcopal Church, 43 Foreside Road, Falmouth, Maine 04105 with a reception to be held immediately afterward at the church. There will be a memorial service and spreading of ashes on August 5, 2023 on Chebeague Island. In lieu of flowers, please consider a donation to the Experiment in International Living, P.O. Box 676, 1 Kipling Road, Brattleboro, Vermont, 05302, or the Chebeague Community Church, P.O. Box 1, Chebeague Island, Maine, 04017.