« Obituaries | Faye C. Wells
Faye C. Wells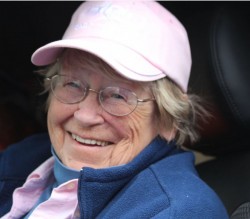 Date of Death: February 2, 2018
Date of Birth: December 23, 1931
Biography:
PHIPPSBURG - Faye Wells (86) passed away peacefully at her home in Phippsburg, Maine on Friday, February 2, 2018 after a courageous battle against lung cancer. Faye was born on December 23, 1931 in Brookline, Massachusetts, the daughter of Sara Chilloa Ridley Collins and Wyatt "Dutch" Albertson.
Faye Wells started out early as a fisherman in Phippsburg, Maine. She worked from a very young age with her Dad and neighbors both lobstering and longlining. At 14 she joined Jerry Bartlett, a local fisherman, and spent her summers tuna fishing and tub trawling. This started her life- long love being on the ocean and catching fish. She joined the Army at the age of 17, and was trained as a cryptographer, stationed in Japan during the Korean War where she met and married Bert Wells from Montana who was in the Air Force. They were stationed all over the United States, and in Morocco, Africa. When Bert received orders to Vietnam in 1967, he and Faye returned to Maine and bought a permanent home in Sebasco to raise their 6 children, (and a few informally adopted siblings along the way). They were married for 48 years, and through it all, they both followed their love of enjoying nature, teaching their children about the importance of wildlife conservation, as well as how to hunt and fish with gusto.
Faye's true passion was her father's wooden lobster boat, "Sara C" from which she tuna fished and lobstered until her passing. She never passed up a chance to be on the water, whether on a lobster boat or dragger, and she always loved a day at sea.
Whether sitting in a bear stand, trekking through the Maine woods hunting deer or leading her extended family on an Antelope/ Elk hunt in Montana, Faye truly enjoyed the great outdoors. She had received two moose permits and been a subpermittee on several others. At the age of 83, Faye shot her moose at 290 yards, free standing with one shot. While family members worked to haul the moose out, a passerby expressed skepticism that Faye was the successful hunter; until she talked with him about the different types of ammo she had researched to make sure she achieved the truest shot! Every year, her family travels to East Grand Lake to fish after the spring thaw - and Faye almost always caught the largest salmon. Faye continued to grow and learn her entire life, and even took up flyfishing a couple of years ago. Her first flyfishing trip on a drift boat down the Northern Androscoggin River where she caught, photographed and released over 50 fish in one day was a true highlight for her.
Faye has been the Chair of the Phippsburg Public Safety Committee since 2001 and a member of the American Legion Post 216 in Phippsburg since 2013.
She was predeceased by her beloved soul mate, Bert Colby Wells, in 2001. She leaves behind a brother, Richard Albertson, a sister, Joanne Anthony (m. Vaughn Anthony), 6 children and their spouses: Mark & Betsy Wells, Proctor & Joanne Wells, Lewis & Gail Wells, Kenneth "KC" & Jenny Wells, Jason & Deedee Wells and Chilloa & Mike Young, as well as her semi-adopted son, Mark Haskell. She also has left a loving legacy of 15 grandchildren and 4 great grandchildren.
A Celebration of Life will be held on Saturday, March 10, 2018 at the Small Point Baptist Church in Phippsburg at 1:00 pm. The family will hold private and graveside services later in the summer. The family has requested that in lieu of flowers, contributions in Faye's memory may be made to the Phippsburg Fire and Ambulance Fund, PO Box 83, Phippsburg, ME 04562, or to the American Legion Post 216, PO Box 93, Phippsburg, ME 0 4562.