« Obituaries | Carolyn Ann Welch
Carolyn Ann Welch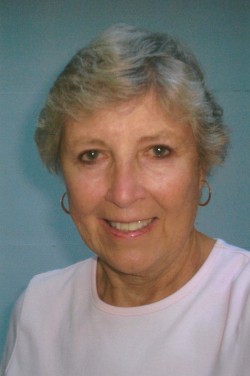 Date of Death: June 3, 2023
Date of Birth: March 22, 1937
Biography:
Carolyn Ann Welch of Brunswick died on June 3rd at home. A long time Maine resident, she was born March 22nd 1937 in Columbus Ohio to Earl and Lillian Johnson Welch. She is survived by her son Brian McTeague, his wife Alison Hannukaine and their son Chase Martin of Olympia Washington, her sister and brother-in-law, Sandy and Jerry Parsons of Virginia Beach, Virginia., Nieces Kathleen Parsons Knoll, Shelly Parsons Bradley, their families, and cousin Craig Welch of Delaware Ohio.
Carolyn grew up in Grandview, a suburb of Columbus and was an enthusiastic attendee of many Grandview High School class of '55 reunions. She graduated from Miami University, Oxford, Ohio and enjoyed many get-togethers over the years with a tightknit group of college dorm friends.
Arriving in Brunswick in 1962, Carolyn was a child welfare caseworker for the Maine Department of Health and Human Services. In 1970 earned her Masters of Social Work from Boston University. She retired from DHS in 1999 as Child Protection Program Manager. She was a volunteer mediator for the Maine Attorney General's Consumer Mediation Division and a consumer rep at LL Bean, taking phone orders.
Carolyn was a 50+year veteran of a group of bridge playing dear friends. In addition, she loved tennis, organizing many seasons of ladies doubles at Maine Pines in Brunswick.
She was an avid outdoors woman who enjoyed hiking and skiing in the mountains of Maine and New Hampshire. She loved paddling canoes and kayaks, including 24 runnings of the Kenduskeag River Race. She was a coordinator for the Penobscot Paddle and Chowder Society class 2 whitewater events, a longtime Appalachian Mountain Club trip leader and Chairwoman of the Brunswick Democratic Town Committee.
Traveling was another of Carolyn's passions. She went with friends to a wide range of countries, often on Overseas Adventure Travel excursions.
She also took great pleasure in gardening, especially in her extensive Hosta gardens.
Carolyn enjoyed the camaraderie of her good friends in her many travels and outdoor pursuits. She cherished the companionship of her extended family with whom she visited often and the fresh sea breezes of the midcoast inlets she paddled. She was mindful of the forecast, tides and always prepared like the Girl Scout counselor she had been.
With a quick wit, a keen eye and a contagious passion for new experiences, Carolyn shared joy, comfort and kindness with all who knew and loved her.
A wonderfully kind, loving and attentive daughter, sister, mother and friend, Carolyn's zest for life inspired and touched so many. She is dearly missed and remembered fondly.
Topsham Grange Hall 47 Pleasant St., Topsham, ME, United States, Maine at 11Am on August 2nd
For more information on the event please contact Brian McTeague at (360)402-3103 or bmct@hotmail.com
Memorial contributions may be made to the Brunswick and Topsham Land Trust, the Curtis Memorial Library or the Maine Island Trail Association.