« Obituaries | Malcom E. Weiss
Malcom E. Weiss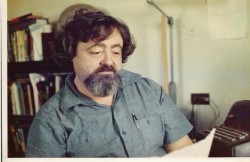 Date of Death: June 16, 2010
Date of Birth: January 22, 1928
Biography:
                                    Obituary
Augusta-Malcolm E. Weiss, 82, of Whitefield, died June 16, 2010 at the Augusta Rehabilitation Center on Eastern Ave. 
Malcolm was born on January 22, 1928, in Philadelphia, the son of Amos A. Weiss and Doris Trachtenberg Weiss 
After graduating from high school, Malcolm attended the University of Wisconsin. He also studied graduate level English at the University of Chicago and psychology at City College in New York City. 
He loved listening to music, both classical and jazz, reading, playing chess, and photography.  He enjoyed astronomy and built his first telescope himself.  Many of his most impressive photos were of the moon, stars and planets. 
Malcolm worked briefly in the blood chemistry lab at Metropolitan Hospital in New York City. In 1964 he joined the staff at Scholastic Magazines, also in New York. The next year he became Science Editor of Scholastic's Elementary Division. He concluded his years at Scholastic as Associate Editor of Science News, the company's high school science magazine. Malcolm's first book, "Clues to the Riddle of Life," was published in 1968 by Hawthorn Books of New York City. His second book, "Man Explores the Sea," appeared in 1969.
In 1972, Malcolm moved with his family to Whitefield, Maine, to freelance science and math books for children and young adults. Over the years he produced numerous books for various publishers. Some of his favorites included "The World Within the Brain," "Far Out Factories: Manufacturing In Space," "Seeing Through the Dark: Blind and Sighted--a Vision Shared," "Solomon Grundy, Born on Oneday: A Finite Arithmetic Puzzle," and "666 Jelly Beans! All That?: An Introduction to Algebra."  To his delight, the latter two books were translated into Chinese and remain popular in Taiwan. In addition, Malcolm wrote one book, "The Vitamin Puzzle," with his wife Ann, also a writer. He also wrote and published poetry. 
Malcolm was predeceased by his parents, aunt and uncles.   
He is survived by his wife Ann E. (Charlton) Weiss; daughters, Margot E. Weiss  and husband Bill Brink of New York City, and Rebecca B. Weiss of Denver, Colorado; grandsons Samuel Malcolm Brink and Theodore Charlton Brink; cousin Vivi Trachtenberg Greenspan of Upper Montclair, NJ; and brother-in-law John P. Charlton of Eastport, Maine. 
At the request of the deceased there will be no services. 
In lieu of flowers donations may be made to: Maine Farmland Trust 97 Main Street
Belfast, Maine 04915.
Arrangements are under the care of Funeral Alternatives Group 198 Western Ave. Augusta, Me 04330