« Obituaries | Tabbitha Lynne Watts
Tabbitha Lynne Watts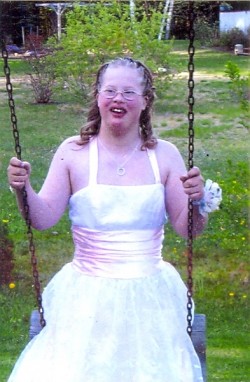 Date of Death: October 27, 2011
Date of Birth: May 25, 1991
Biography:
LEWISTON-Tabbitha Lynne Watts, 20, of Lewiston, passed away on October 27th, 2011 at her home.
She was born on May 25th 1991 to mother Tracee Watts in Portland.
Tabbitha was a gold medalist in the swimming division of the Special Olympics. She also enjoyed
attending the Pine Tree Camp. She graduated from Lewiston High School in January of 2010.
Tabby enjoyed making pulls, dancing to music, and she loved watching her movies. She liked coloring
and playing with her dolls and her butterflies.  Her playful attitude was reflected in some of the things
she would say, "Let's do it!", and "Just Joking Mom!". She was happiest with her family and friends.
She is survived by her mother Tracee, her brother Noah, grandparents George "Papa" and Diana "Mimi"
Watts of Westbrook, Aunt Teresa Blaisdelland and husband Urban of Casco, Uncle Tim of Westbrook,
Cousins Zachary and Brandon Conley, Damien, Dana, Keegan and Deacon Watts, Great Grandmother
Theresa Brown, and many special friends.
A celebration of life will be held in Tabby's memory on Saturday, Nov. 5th at the South Portland
Boys and Girls club, 169 Broadway South Portland ME from 1 to 3pm. In lieu of flowers,
donations may be made to the Pine Tree Camp at www.pinetreesociety.org, or to Special Olympics
Maine, Attn: Linda, 125 John Roberts Rd #19 South Portland, ME  04106.