« Obituaries | Mary Little Huggins Wallace
Mary Little Huggins Wallace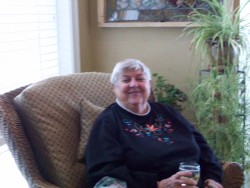 Date of Death: November 9, 2016
Date of Birth: May 24, 1924
Biography:
BRUNSWICK - Mary Little Huggins Wallace died on Wednesday, November 9, 2016 in Brunswick.  She was born in Portland, Maine on May 24, 1924 to Bowdoin professor Noel C. and Margarite Little. Mary graduated from Brunswick High School in 1941 and attended Vassar College graduating with the wartime class of 1944-1945.  From Stanford University, she received a Masters of Arts Degree in Math and from the University of Pennsylvania, a Masters of Science Degree in Education.
     She married Richard Huggins in 1944 and moved to California in 1945. There Mary taught math at Stanford University, the Palo Alto School District, and worked for NASA in aeronautical research.  She became an ardent bridge player and attained the status of Silver Life Master. During these years the Huggins had two children: Edward and Sara. Mary continued with the cello she had started studying at age six, playing throughout the California period with several orchestras and a quartet.
     In 1970 Mary married Dana Wallace and moved back to Brunswick, Maine. That year she retired her cello and learned to ski, buying a cabin at Sugarloaf. What followed were years of ski trips, Elderhostel journeys, and cruises.  When at home, she ran a duplicate bridge club, did volunteer income taxes, and belonged to a quilting group, while pursuing other interests such as gardening, painting, and sewing.
     Mrs. Wallace is pre-deceased by both husbands, her brothers Clifford and Dana Little, her son-in-law David Caron and step-son Kim Wallace.
She is survived by Sara Caron and her significant other Stephen Vachon of Brunswick, Edward Huggins and his wife Jill of Auburn, Kerry-Sue Walters of Manchester, Valerie Wallace of Alexandria, VA, nine grandchildren and ten great grandchildren.
Donations may be made in her memory to Coastal Humane Society, 190 Pleasant Street, Brunswick, ME 04011.
At the request of Mrs. Wallace, the family memorial and burial service is private. Condolences may be expressed at www.FuneralAlternatives.net.  Arrangements are under the care of Funeral Alternatives, 155 Bath Rd. Brunswick.