« Obituaries | Joseph (Joe) L. Walker
Joseph (Joe) L. Walker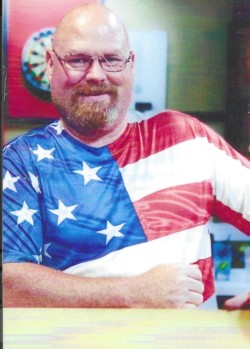 Date of Death: October 25, 2023
Date of Birth: April 17, 1966
Biography:
Lewiston -Joseph (Joe) L. Walker, 57, Tragically passed away on Oct 25, 2023.
Joe was born April 17, 1966, in Lewiston, Maine to Leroy Walker Sr. And Grace (Crawford) Pray.
 Joe was the manager at Schemengees Bar & Grill and the Station grill Restaurant where he worked very closely with the owner Kathy Lebel (his work wife as Joe would call her.) Joe loved his job meeting new people and organizing events at Schemengees.
 Joe was a member of some of the local clubs in town. He was president of the Central Maine Dart League. He also founded the Artic Blast Dart Tournament.
 Joe enjoyed his yearly trip to Florida with his wife Tracey. He loved the Red Sox and going to games with his best friend Alan Nickerson. He also loved spending time with his grandchildren.
  Joe played darts, pool, and his most recently found a passion cornhole, which he ran two leagues out of Schemengess. Joe enjoyed his life to the fullest.
 Joe was a devoted and loving husband, father, son, brother, grandfather (bampa), and uncle.
 He is survived by his wife Tracey (Ogden) Walker, his sons Brandon Welch, David (Buddy) Wing, his daughters Jessica Parlin, Nicole Gallagher, Belinda Wing, and Bethany Welch.  his father Leroy Walker Sr., stepmom Beverly Walker, and stepfather Preston Pray, his brothers Ronnie Walker, Sr, Leroy Walker Jr and wife Kelli, Isaiah Tylor Walker Sr., and Davey Dyer.
He is also survived by his sisters Kelly Masse and husband Dennis, Dee Chapman and husband David, Chrissy Pelletier, as well as his VERY best friend Alan Nickerson and a VERY special person he considered family Brenda Henry, along with many nieces and nephews.
 Joe was predeceased by his mother Grace (Crawford) Pray and his sister Tracey May.
 Visiting hours will be at East Auburn Baptist Church. Address, 560 Park Ave, Auburn on November 17, 2023 from 3:00 p.m. to 5:00 p.m. with a service will follow.
  in Lieu flower, donations may be made in Joe's honor to The Dempsey Center; www.dempseycenter.org
 On Saturday November,18th @ Sliders Sports Pub, 40 East Ave, there will be a  celebration of life for Joe. From 12:00 p.m. to 5:00 p.m.
 To mitigate any parking or seating issues, the service will also be on fakebook live at www.facebook.com/falewiston .  Condolences may be expressed at www.funeralalternatives.net