« Obituaries | Paul C. Walker
Paul C. Walker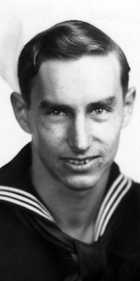 Date of Death: February 17, 2012
Date of Birth: August 19, 1923
Biography:
LEWISTON — Paul C. Walker of Lewiston, died Feb. 17, at Marshwood Health Care.
He was born in Lewiston, Aug. 19, 1923, son of Arthur E. and Alberta (Thorne) Walker. After graduating from Lewiston High School in 1941, he joined the U.S. Navy and served throughout World War II, after which he worked as a logger and was hired by New England Telephone Co. to help install the dial system.
He was a member of the Naval Reserve and was recalled to active duty in the Korean War. He worked at Bath Iron Works and finally at the Lewiston Post Office, where he served 32 years as a clerk, retiring in 1984. He was a member of the First Church of Christ Scientist in Boston and attended the local branch.
He was a member of the American Legion, Veterans of Foreign Wars and the Disabled American Veterans. On Dec. 5, 1964, he married Wilma (Turner) Wilkinson, who passed on in May 1994. On Nov. 15, 2011, he married Ann Thayer of Auburn.
He is survived by his wife, Ann and her family; stepson, Allyn Wilkinson and wife, Janet, of Oakview, Calif.; stepdaughter-in-law, Yvonne Wilkinson of Gray; three stepgrandchildren; and two stepgreat-grandchildren.