« Obituaries | Daniel R. Walker
Daniel R. Walker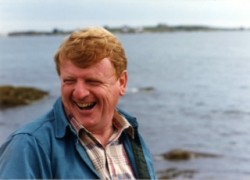 Date of Death: May 29, 2016
Date of Birth: May 29, 1942
Biography:
Daniel R. Walker, Jr. of Brunswick, Maine passed away peacefully surrounded by his family on May 29, 2016 at the age of 74.
Throughout his ordeal with cancer as well as Alzheimer's Disease Danny managed to retain his sense of humor as well as his joy of life.   He was greatly admired by his family and friends for his unfailingly courageous acceptance of his fate with amazing grace and dignity.   He was indeed an exemplary "Carpe Diem" role model to the very end.  Daniel R. Walker, Jr.  was born in Portland, Maine and was the son of Daniel R. Walker, Sr. and Nora  A. Walker.
Danny attended Cheverus High School where he was elected Student Council president as well as class president and graduated as Salutatorian.  Dan also earned many awards and medals in track and football at Cheverus.  He then attended Boston College majoring in business.  He was also in the US Army Reserves.
Dan Walker worked for Casco Bank and Dunn & Bradstreet for several years.  He then reinvented himself by changing his career path in joining the Local 716 Plumbers and Pipefitters Union for which he was a member for 40 years.
During his lifetime Dan loved boating and scuba diving in Casco Bay with his father and  other family members.  However,  his true  passion for many years emerged in  hiking the many trails and mountains of Maine and New Hampshire.  He was also an avid cross country skier.  All in all he had a strong partnership with nature which continued throughout the last ambulatory days of his life in the form of morning walks with his longtime friend Lauren Smith.
Danny was predeceased by his parents and his loving wife Joan T. McInnis Walker.
Surviving are his daughter Lisa A. Walker and partner Michael O'Neill.  Granddaughter Heather L. MacDonald and partner Scott L. Webber II.  Grandson Shane Walker O'Neill.
Two great granddaughters, Brooklynn and Bristol Webber all of Farmington, Maine.   His brother Joseph M. Walker and his wife Elizabeth of Gorham, Maine.  His nephew Jason Walker and his wife Jennywren of Scarborough, Maine.
Daniel Walker's daughter, Lisa, wishes to express heartfelt gratitude to  Lauren  Smith for her dedicated and compassionate support and assistance.  Heartfelt gratitude is also extended to Joseph Walker as well as the staff at Thornton Oaks for the stellar help and care provided.
You can remember Danny and only that he is now gone or you can do what he would want: smile, open your eyes, love and seize the day as he did so well.
A memorial will be held at the Curtis Memorial Library in the Morrell Room in Brunswick, Maine on Thursday, June 9, 2016 at 3:00p.m. In lieu of flowers donations to Maine Public Broadcasting services would be appreciated.