« Obituaries | Edward Arthur Vinton
Edward Arthur Vinton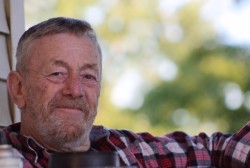 Date of Death: June 30, 2015
Date of Birth: October 25, 1941
Biography:
Randolph-Edward Arthur Vinton, 73 passed away peacefully on June 30, 2015 at his home in Randolph surrounded by his family. 
Edward was born to Howard Vinton and Louise Hartley in Middleborough, Massachusetts. 
Ed was a man with many trades, having worked since a young boy.  Ed worked as a farmhand and lobsterman as a child.  As an adult, he proudly operated some of the largest cranes in Massachusetts, worked in construction, was a greenkeeper, and for almost 20 years worked making beautiful stone memorials and signs.  Ed retired in 2011 and devoted his time to his family, friends, and true passion - woodworking. 
Ed was known for his wood workshop, which he would show off to anyone willing to take a peek.  Ed was a lover of all animals.  Ed greatly enjoyed sitting on the porch watching birds and any other creatures that wandered into the yard.  Ed enjoyed going for drives, visiting friends and having coffee, and traveling throughout Maine exploring unique and unknown parts of the state.
Ed is predeceased by his father Howard Vinton and, the love of his life for 35 years, wife Mary Boucher.  Ed is survived by his daughter Melissa Spatafore and son-in-law Robert Spatafore, surrogate daughters Valerie MacKenzie and Heather Stuart, surrogate son Raymond Moreau, and surrogate grandson, Guy Parker, who lovingly knew him as "Papa", and ten brothers and sisters.  Ed is also survived by many long life friends.
A celebration of life will be planned for a future date and announced by the family.  In lieu of flowers, please make a donation in Ed's name Kennebec Valley Humane Society.
Arrangements are under the care of Funeral Alternatives 198 Western Ave. Augusta, Me 04330