« Obituaries | Joe E. Vigil Sr.
Joe E. Vigil Sr.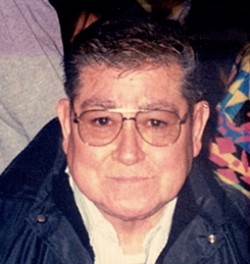 Date of Death: December 17, 2012
Date of Birth: October 6, 1936
Biography:
Joe E. Vigil 76 of Sabattus passed away Dec. 17, 2012 at Togus V.A. in Augusta with his wife Linda at his side.
He was born in Wheatland, WY. on Oct. 6, 1936. Joe proudly served his country in the US Navy for 24 years, and continued on to work at Bath Iron Works for 22.
He leaves his wife Linda, his son Joe Vigil Jr., Step-son Rick L. Morrison, 10 grandchildren, sisters, Flo Kissel and Francis Contreras, and brothers Ben and Lewis Vigil of WY.
He was predeceased by his parents Joe E. and Josephine Vigil.