« Obituaries | David Allen Veinott II
David Allen Veinott II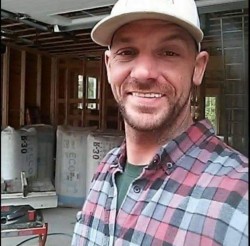 Date of Death: April 1, 2022
Date of Birth: September 22, 1983
Biography:
David Allen Veinott ll, 38 of Bowdoinham passed away unexpectedly but peacefully in his sleep on April 1, 2022. Born September 22nd in Lewiston Maine to David A. Veinott of Lewiston and Tina M. Veinott of Buckfield. He attended schools in Auburn and Lewiston. He worked at Quality Insulation for several years and had more recently worked for Top Builders.
David, also known by his close friends and family as "Bub" was an amazing father, son, brother, uncle, grandson, cousin and nephew – He was special to anyone that knew him. His smile would light up any room, his laugh was contagious, and his heart was full of love! He was an avid Softball player who loved everything about the game. Even when he was very young and watching our Dad play ball, he went to every game, every practice and wanted to be just like Dad. His jersey number followed suit and is and always will be #22. It's a tradition that will live on in our family for a lifetime. He enjoyed anytime spent with his 2 beautiful children David and Grace. They were his closest buddies and pride and joy. They are also #22 and they will help his memory stay alive within all of us forever! David loved to be outside, he enjoyed playing ball, fishing, disc golf, BBQ outings with friends, camping and campfires, oh and of course bud light and root beer/grape DR. McGillicuddy's. He was goofy, fun and usually the life of the party. He knew how to make you smile even on the darkest of days. He himself had been through a lot over the last couple of years and was still able to find a way to get up each day and make the best of it and to be the best man he possibly could be, even despite several major mishaps or losses.  David was brave and he was kind, he wore his heart on his sleeve. He would give the shirt off his back, literally and/or figuratively to anyone who needed it. Heaven gained a beautiful soul when David arrived. His memory will live on within all of us! Only a memory maybe, but anyone that has ever known him, knows that this life will not be the same without him. He left a lasting impression wherever he went. We love you Bub and are thankful to have had the chance to live with you, love you and learn from you! You will always be in our hearts! Fly high and fly proud, you were amazing!
David is pre-deceased by his little brother Damien Pinard (Buzzy), his stepmother Leann Veinott; his fraternal grandparents Erma and Robert; His maternal grandparents Joyce and Ronald; Two aunts Susan Veinott and Lorraine Veinott; Three uncles Jamie Vining, Bobby Vining and Ricky Vining.
He is survived by his father, David Veinott of Lewiston; his mother Tina Veinott and stepfather Bruce Pinard of Buckfield; His loving fiancé and best friend Jessica (Jesse) Semprebon of Bowdoinham; His children David (DJ) Veinott and Grace Veinott; His 3 stepsons Reece, Ryker and Rennen; His ex-wife and forever friend Lisa Veinott of Buckfield. His siblings, Tanya Veinott, Jessica Hamm, Devvyn Pinard, Tia-Marie Pinard and Jamee-Lyn Pinard; His nephews Kyle, Gavin, Jayce, Chad, Triton and Damien. He is also survived by many special aunts, uncles, cousins, and friends.
David would want us to celebrate his life, not be sad at his funeral, so the family will be holding a celebration of life for David on April 16th from 4pm-9pm at the Fraternal Order of Eagle's, 1327 Sabattus St, Lewiston, ME.
In lieu of flowers you may make donations to a gofundme page that you can find at this link. https://gofund.me/405de009 This will be used to purchase a plot and final resting place in the cemetery, a place for his kids, family and friends to go and visit with him. The family would like to thank everyone for the incredible amount of love and support received by so many!