« Obituaries | Robert Vaughn
Robert Vaughn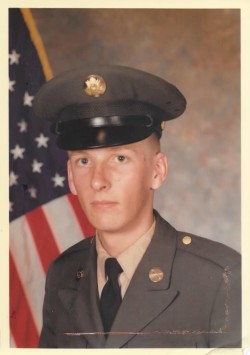 Date of Death: January 25, 2022
Date of Birth: November 7, 1959
Biography:
Robert E. Vaughn, age 62, gained his wings on January 25, 2022 at the Androscoggin Hospice House, Auburn, Maine. He is now pain free and at peace. His death was not Covid related.
Bobo / Bo as he was known to most, was born in Rumford, Maine, the son of Richard and Hazel Vaughn. He grew up in Peru and attended Peru and Rumford schools, enlisting in the Army in 1977.
Upon his discharge from the Army, he worked numerous different jobs. His longest employment was as an iron hanger for Cianbro, a job he truly enjoyed and was top notch at. He was a very dedicated employee; however, he lost this job after attempting to thwart a store robbery in South Paris in 1999. Bo was shot, the bullet striking his spleen, liver and aorta, remaining lodged in his spine at this time. He has lived with excruciating pain, causing depression, for 22 years. Nonetheless, Bo worked at various jobs and continued to maintain his home on Birchwood Lane, West Paris to the best of his ability.
Bo was mellow and well-liked by all. He would help whomever he could when his health allowed. Bo was best friends with his brother, Gary, often working together on projects. Most recently, Bo resided with his sister, Kathy (& Bill) Hussey in Peru. He spent the recent holiday with his son, Erik and family in Washburn raving, upon his return, that it was the best visit ever! One of the highlights being able to attend his grandson, Beckam's basketball games.
Bo enjoyed making puzzles, doing Word Search, reading, watching TV (especially World Wide Wrestling), gardening, puttering and using his John Deere tractor whenever possible. He was seldom seen without his large flask of ice water, often hanging off his belt or his back pocket. He was a big fan of chocolate ice cream, pumpkin pie, "Original" Chips Ahoy cookies and Special Dark Chocolate. He enjoyed time spent with Nick DiConzo and friends Randy and Sparky. There are likely others, names unknown, by those writing this.
Survivors include his son, Erik and wife, Erika; a daughter, Kori McManus and husband, Marshall. Grandchildren MaKenzie, Beckam and Liam Vaughn; Brooklyn Tupper and Ryker McManus, all from Washburn, Maine. Brother and best friend, Gary, of Portage, PA. A brother Rick and wife, Sheryl and sister, Kathy and husband, Bill Hussey of Peru. Also, his intended ex-wife, Susan Bradford of West Paris; and Rhonda Sperry, the mother of his children, of Washburn.
There will be no services at this time. An informal Celebration of Life will be held at a later date. Per Bo's wishes, he will be cremated and his remains scattered over Speckled Mountain, Peru. Fly high, Bo, you are loved!! Surely Dad and Mom greeted you with joy, well aware of your ongoing pain.