« Obituaries | Clyde Milton Vasel
Clyde Milton Vasel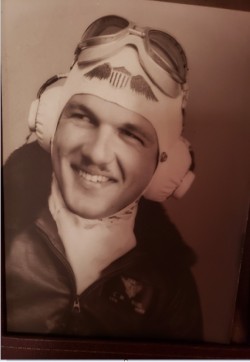 Date of Death: December 9, 2022
Date of Birth: August 10, 1924
Biography:
Clyde Milton Vasel, 98, passed away peacefully at his daughter's home early on December 9. He was born August 10, 1924, the first born to James Priest (Thimi Papa) Vasel and Cleora Maude Dingley Vasel. After the death of his father in 1929, Clyde became the "man" of the family, which now included three children, at the tender age of 5. Thus, began the deep sense of responsibility and duty that would be the theme of his life. He worked from a very young age in his Uncle Clyde's slaughterhouse to help support the family. Through his high school years he worked in the Lisbon Mill 3rd shift, after playing baseball, football and hockey in the afternoons. Clyde often spoke of how grateful he was that the ladies at the mill would let him nap when they didn't need him! Clyde lived nearly all of his long life in Lisbon, Maine graduating from the Old Lisbon High School in 1942.
Clyde was an American Hero in the truest sense of the words. He embodied the spirit of The Greatest Generation. After graduation, Clyde enlisted in the U.S. Navy, honorably serving his country during WWII. While waiting to leave for boot camp, Clyde worked for a few months at Bath Iron Works. Clyde served aboard the USS Essex in the Pacific Theatre as a gunner in SB2C Helldiver planes, a proud member of the Top Hat Squadron of Naval Air Group 4. He logged over 900 hours in combat flight including the Battle of Manila Bay and was aboard the Essex when it was struck by a kamikaze in 1944. On Thanksgiving Day in 1945 after he and his pilot were forced to make a water landing, they were rescued by the USS Ingersoll, a destroyer he had worked on at BIW. The captain gave them whiskey instead of Thanksgiving dinner, since they had swallowed sea water and were unable to eat. During leisure time in the service Clyde added boxing to his athletic accomplishments. When he returned home he continued amateur boxing and was Middleweight Champion of Maine!
Following his discharge from the Navy, Clyde returned to Maine and opened his first business, a "beer joint" (his words) in Lewiston. Always the entrepreneur, he realized that he was frequently sending patrons home in cabs and thought, "Those should be MY cabs!". Clyde's Cabs was born.
In 1948 he met Libby Powers on a blind date. They married on New Year's Eve, 1949 at 11:45 pm and she joined him in operating Clyde's Cabs. Libby dispatched and Clyde drove, made repairs, and whatever other tasks were required. After closing the business, they traveled to Florida, spending a winter season there. She worked in the Soreno Hotel in St. Petersburg and he drove cab. Indulging his spirit of fun and adventure, they traveled along the Florida coast all the way to the Keys, camping in jungle hammocks along the way. They returned to Maine in the spring and in 1963 they began building their lifelong home less than a mile from Clyde's birthplace in Lisbon. Clyde possessed a deeply ingrained New England work ethic and frugality. He built the house from the ground up, driving every nail with his legendarily large, strong, but gentle hands. His nickname, Mitt, was more than a shortened form of Milton!
From his cab company days, Clyde was familiar with Jewett Ford in Lewiston. He asked for a job and was told, "You'll never make a salesman, but I'll give you a shot." Never one to be told he couldn't do something, he progressed from car to heavy truck sales, and was known statewide by contractors, loggers and commercial truckers. Jewett Ford ultimately became Rowe Ford where he worked well into his 80's. He especially loved taking a truck to the Fryeburg Fair for Woodsman's Day, taking his grandchildren along. He finally retired for good when Libby's health declined. He cared for her with constant love and dedication until her death in 2018.
After Libby's passing, Clyde decided he could finally take a trip to Washington DC with Honor Flight Maine, something Libby had urged him to do for several years. His abiding sense of duty meant he had been unwilling to leave her to go. His daughter Kim served as his Guardian for the trip and she will be forever grateful for this experience. Clyde was later presented with a Quilt of Valor in recognition of his service at a private ceremony at his home.
Clyde was a deeply-devoted father to his daughter Kimberly. He taught her all the things a father would ordinarily teach a son, including carpentry, auto mechanics and body work. He supported her in academic and musical pursuits. Always her protector, he had a remarkable knack for showing up at street dances, ski slopes and the roller rink in her teen years. He was known by her friends as "Pa Vasel" and was loved by all. He built an inground pool, created a gathering place for countless Lisbon youth, and loved watching them enjoy it. Kim fondly remembers family camping trips to Point Sebago, countless boating outings, and days at Popham Beach and the Giant Staircase. Clyde and Libby always welcomed Kim's friends along.
Clyde was always active. In winter he ice-skated, skied alpine, cross-country, and snowshoed. In summer he swam daily, rode a bicycle, rollerbladed, fished, and enjoyed his many boats; sail, fishing, kayaks, canoes and the pontoon boat he built. He expressed his deep love for Kim and his grandchildren; Joseph, Douglas and Caroline by spending countless hours engaging in these and many more fun activities. He gifted them his love, support, and a constant, protective presence.
He loved sports his entire life. He faithfully watched Red Sox, Patriots and Bruins games and loved to watch the Olympics. He took Kim to a Red Sox game and his grandchildren to several Seadogs Games. He attended countless Little League and Youth Football games, Cheering competitions, school band concerts and parades.
Clyde lived in the home he built until his final year, when he resided with Kim and her husband Jeff Mills. Jeff especially provided countless hours of care and companionship. They formed a very special bond. As his health declined, he maintained his spirit, humor, care, and compassion. Even on his last day, he showed concern about the well-being of his loved ones. He worried about them getting enough rest, fretted over every cough or sneeze, and insisted that they eat breakfast.
Clyde is survived by his daughter Kimberly Mills and her husband Jeffrey of New Gloucester, a sister Arline Achey of Jackman, and three grandchildren, Joseph, Douglas and Caroline Marchyshyn, along with many nieces and nephews, friends and community members who respected and loved him. He was predeceased by his wife of 68 years, Libby, brother George, brother-in-law Leander Achey, sister Lina Alexander and her husband Edward. The family thanks the staff of Androscoggin Home Care, and "Team Clyde" for the compassionate care they offered him during the last years of his life. A celebration of life and open house will be held on Saturday, December 31 beginning at noon, at his home. In lieu of flowers, donations in Clyde's memory can be made to Honor Flight Maine (www.honorflightmaine.org). Committal with military honors will take place at Maine Veterans' Cemetery in Augusta at a later date.