« Obituaries | Libby Powers Vasel
Libby Powers Vasel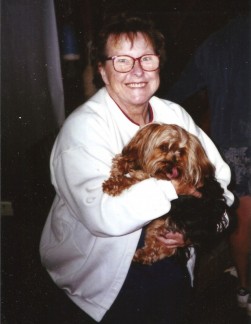 Date of Death: January 22, 2018
Date of Birth: March 19, 1928
Biography:
Libby Powers Vasel, 89, passed away peacefully early in the morning of January 22 with her loving husband of 68 years by her side. She was born March 19, 1928, a daughter of Violet Powers of Sugar Hill, NH. Libby grew up in the New Hampshire mountains and a piece of her heart remained there always. Her early school days were spent in the one room schoolhouse in Sugar Hill. Later, her family moved to Maine and she graduated from Norway High School in 1946. Following high school Libby worked as a waitress and bartender at many establishments in Lewiston including the Dewitt Hotel. In 1948 she met Clyde Vasel, and they married on New Year's Eve, 1949 at 11:45pm. Following their marriage, Clyde and Libby owned and operated Clyde's Cabs in Lewiston. Libby dispatched and Clyde did everything else that was needed. After closing the business, they traveled to Florida spending a winter season there. She worked in the Soreno hotel in St. Petersburg where the Yankees stayed for spring training, meeting many team members including Yogi Berra. They traveled along the Florida coast all the way to the Keys, camping in jungle hammocks along the way. Following their adventure to Florida, they settled in Lisbon, ME in 1957 and in 1963 they began building their lifelong home less than a mile from Clyde's birthplace.
Libby loved to learn, earning her Associates Degree from University of Maine while taking care of her family. Her daughter Kim remembers her bringing home the frog she was dissecting for a biology class and using it to teach her anatomy. She was a voracious reader and had an insatiable thirst for knowledge. She passed this love of learning on to Kim, teaching her to read before she started kindergarten, and gave her the gift of dance, ski and music lessons. Libby was a wonderful cook. She prepared meals each day for her family, using these opportunities to teach Kim math and fractions as she halved and doubled recipes. She was a talented seamstress who spent countless hours making many dance and Halloween costumes, two beautiful formal gowns, and crafting with Kim and her friends. Kim will be forever grateful for these enriching experiences.
Libby touched the lives of countless young people, as a substitute teacher, Summer Bible School teacher and Girl Scout leader. She was known as "Ma Vasel" to an entire generation of Lisbon youth and was renowned for the best after school snacks in town. Many of these young people, now adults, have reached out to share a memory all these years later, demonstrating the positive and far-reaching impact she had. Her family remembers fondly the many camping trips to Dolly Copp campground and Point Sebago and spending summer days at Popham Beach and other sites on the Maine ocean.
She was the hostess of every extended-family Christmas celebration for many years which always included delicious food, lovingly prepared with her daughter over a period of several days, many games of Scrabble, and hours of lively and spirited conversation. Kim remembers the creative scavenger hunts that she created each year as a part of her stocking on Christmas morning.
Libby loved her grandchildren, Joseph, Douglas and Caroline. She was frugal and, self-taught, she was a shrewd investor. By these means, and careful planning, she saw to it that they would be provided for in the future. It was crucial to her that she leave a legacy for them. Because of her, they will have the opportunity for an education or to start a business, as was her wish.
Libby is survived by her husband Clyde, daughter Kimberly Mills and her husband Jeffrey of New Gloucester, three grandchildren, Joseph, Douglas and Caroline Marchyshyn, and a brother, Brett Hamel and his wife Dale of Easton, NH along with several nieces and nephews. She was predeceased in 1985 by her mother, Violet Hamel, in 1962 by a young brother, William Hamel, who never left her mind or heart, and also by her loving constant companion, her yorkie, Lily.
The family wishes to thank the staff of Androscoggin Hospice Care for the compassionate care offered Libby during the final days of her life.
Burial will take place privately at a later date.