« Obituaries | Robert "Bob" Turner
Robert "Bob" Turner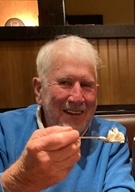 Date of Death: July 10, 2021
Date of Birth: March 11, 1941
Biography:
Auburn- Robert "Bob" Turner, 80 of Auburn passed away peacefully Saturday, July 10 with his family and faithful dog Max by his side. He was born in Lewiston March 11, 1941 and graduated from Edward Little High School in 1959.  He proudly joined the US Navy in 1960 and was stationed in California where he met his first wife, Reta Lynch. After his tour of duty, they moved back to Maine to raise their 4 children in Turner. Bob began his career in transportation driving truck in 1964 and moved to sales in 1978.  During his career he served as President of the Maine Traffic Club and President of Delta Nu Alpha.  In 2018 he was an inductee into the North East Association of Rail Shippers Hall of Fame.   Bob married Gail Clark in 1995.  They spent 26 years together doing some traveling, hosting family holidays, dinners out with friends, enjoying their home and going "upta camp" at the RIPS in Brownville.
 He loved the game of golf, beginning as a caddy and ending his final rounds at Martindale with the "three Johns."   After retirement he and Max would spend mornings at Whited RV, available for RV delivery as needed.
He's survived by his wife Gail of Auburn, his son Randy and wife Kim of Brownville, daughter Kelly and husband Frank of Auburn, daughter Marcie and husband Tim of Minot, step-daughter Lisa Clark of Lewiston, son Mike and wife Sarah of Turner, grandchildren Nathan, Seth, Arica, Dylan, Garrett, Wyatt, Kayla, Sarah, Emily, Jade, Kaleb, Ari (Skeezits) and Danny, several great-grandchildren, brothers John C Turner and wife Suzanne of Auburn,  Daniel  B Turner and wife Fern of Wisconsin, sisters  Marianne T. Ireland of Cumberland, Cheryl L Marquis and husband Larry of Turner.  He was predeceased by his parents Reginald and Martha (Caldwell) Turner and sister Linda M Roman.  Per Bobs request, there will be no funeral or graveside service.  The family would like to thank Androscoggin Home Healthcare & Hospice for support and care, especially his nurse Amie Dufour. 
In lieu of flowers, donations can be made in his memory to the Shriners, 11 Sabattus St., Lewiston, ME 04240 and Androscoggin Home Healthcare & Hospice.