« Obituaries | Marion E. Tufts
Marion E. Tufts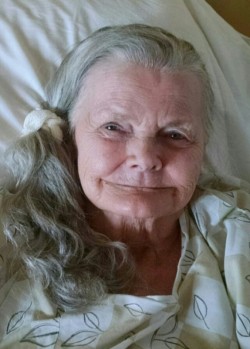 Date of Death: December 18, 2014
Date of Birth: November 29, 1928
Biography:

GORHAM - Marion Eileen Tufts, 86, was born in Hiram, Maine on November 29, 1928, the daughter of Clifton R. Tufts and Helen A. Rollins Tufts, RN. She was a resident of The Gorham House, Cottage, Nursing Home since 2003. Marion passed on Thursday December 18th at the Gorham House with her daughter at her side.
Marion enjoyed visits from her family; good food, especially sweets, and loved it when a new family picture was hung on her wall. She looked forward to her weekly treat of homemade pickles that her son-in-law Tony grew and canned especially for her.

Marion lived a simple life; she last worked at Maine National Bank, Main Branch, in Portland, Maine.

Marion was a loving, caring, selfless person that will truly be missed by her daughter Debra "Debbie" Jean Tufts Makela, her three grandchildren Hope Marion Hobbs Coppersmith, Jennifer Marie Coolbrith, and Kevin Michael Coppersmith, her great grandson Zackory Nickolas Gallant, and Marion's brother Eugene "Gene" Harold Tufts and wife Lynda and their two children and family.  Marion was predeceased by her loving sister Beatrice "Bea" Tufts George, and both parents.
The Staff at Gorham House Cottage cared for Marion the last 11 years of her life, and Andrea Lee from an outside agency over saw Marion's care. The family gives them their greatest gratitude...
Marion will be laid to rest near her mother and father at the New Gloucester Hill Cemetery. Burial Services will be held in the spring.

2 Corinthians 5:1: Awaiting the New Body - For we know that if the earthly tent we live in is destroyed, we have a building from God, an eternal house in heaven, not built by human hands.