« Obituaries | Ruth Gammon Tucker
Ruth Gammon Tucker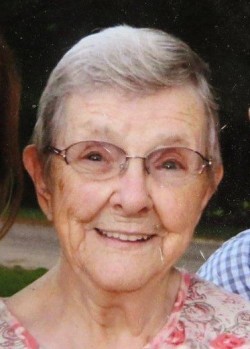 Date of Death: January 5, 2020
Date of Birth: May 25, 1916
Biography:
Ruth A. (Gammon) Tucker, 103, passed peacefully at the Odd Fellows & Rebekahs' Home of Maine on January 5, 2020. She was born in Hartford, Maine on May 25, 1916 to (the late) James G. and Ida (Benson) Gammon. In later years, the family moved across the Nezinscot River to the Foggy Valley Farm in East Sumner. She attended grammar school in Hartford and graduated from Buckfield High School in 1935. On Jan. 15, 1939, she married (the late) Vivian (John) M. Tucker of Hartford, Maine. They had 6 children together and lived in East Sumner Village for many years. Later in life, she became a resident of Buckfield.
Ruth was helpful, kind, and patient. She enjoyed dancing, driving her convertibles, growing flowers, watching birds, loving her dogs and cats, owls, the moon, and wearing sporty hats and lovely dresses.
Survivors include her sisters, Virginia (Babe) Hanson and Beverly Bennett of Buckfield; her children, Pat Jacobs, Turner; Penny Hutchinson, Lewiston; Peter Tucker and wife, Laurie, Union, CT; Pam Bennett, Gorham; Perry Tucker, East Sumner; Paula (Polly) Sullivan and husband, Bill, Buckfield; her grandchildren, Darcy Croteau, Shane and Shawn Jacobs, Devin Hutchinson, Melonie Bennett, Marie Pedersen, Merritt Bennett, Darcy Cole, Erin Courtney, Billy Sullivan; her 9 great grandchildren, and 2 great-great grandchildren. Ruth was predeceased by her sister, Eleanor Hanson and her brothers, Merle, Israel (Bun) and Harold Gammon.  No formal service at her bequest. Graveside service in May. Date to be announced.