« Obituaries | Vicky Lee (Leland) Trask
Vicky Lee (Leland) Trask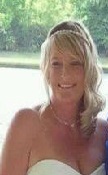 Date of Death: September 27, 2014
Date of Birth: May 25, 1969
Biography:
Vicky Lee (Leland) Trask, 45, of Augusta passed away unexpectedly Saturday, September 27, 2014.
She was born in Lewiston, Maine on May 25, 1969.  Vicky attended schools in the Windsor and Augusta areas.  She graduated from Cony High School in 1987.  In May of 1988, she met the love of her life, Jeffrey Trask .  They had their only child, Jennifer Lynn Trask in July of 1991.  Vicky was a doting mother and cherished her family immensely.
She enjoyed anything and everything that life had to offer including fishing, snowmobiling, boating, four-wheeling, traveling, singing, dancing with the girls, and spending time with her family and friends.   On many Saturday nights Jeffrey and Vicky, along with Vicky's mother, traveled to Bangor to enjoy an evening of gambling.  Jeffrey love to feed Vicky's "gambling addiction" as he jokingly referred to her love for gambling.  Jeffrey and Vicky also shared in the passion of asphalt, grass, and ice snowmobile racing and traveled extensively throughout New England and Canada while achieving many championships.
During the months of May through October for the past four years Jeffrey and Vicky resided at the Smithtown Marina in Pittston.  The marina was their home away from home and they formed special bonds with the marina family.   They anticipated the move to the marina each year with their boat in tow to enjoy months of boating, music, friends and creating memories to last a lifetime.  Every fall would find Jeffrey and Vicky dreading the move back to their home in Augusta for the winter.
After sharing their lives together for 25 years, on June 23, 2012, Jeffrey and Vicky exchanged vows while surrounded by their families, friends and special "marina family".  
Vicky worked at the Maine Veterans Home in Augusta for over 26 years as a Certified Nursing Assistant and more recently as a Therapy Aide.  She took pride in caring for veterans and their families.
Vicky is survived by her husband and best friend, Jeffrey Trask, her baby, Jennifer Lynn (Trask) Morgan and her husband Gabe Morgan, her mother, Dorien Dudley, her sisters, Patricia Lacasse and Peggy Whitney, and brother James Leland and his wife April Leland, father-in-law Edward Trask, Jr., brothers-in-law, Edward Trask, III, Ricky Trask, and Michael Trask; she is also survived by several uncles, aunts, cousins, nieces and nephews.
Vicky will be remembered for her vibrant smile, love for life, and her warm and loving embraces.