« Obituaries | Clive Hasting Tillotson
Clive Hasting Tillotson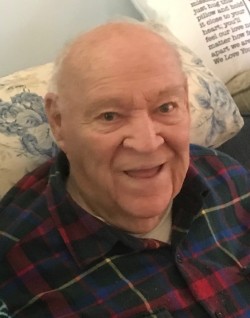 Date of Death: October 10, 2023
Date of Birth: March 14, 1931
Biography:
Clive Hastings Tillotson, March 14, 1931-Oct 10, 2023, died at home in Harpswell. 
Clive grew up in Brunswick, Maine. He attended Brunswick High School then graduated from Bowdoin College (class of 1953). After serving in the
United States Marine Corps in Korea, Captain Tillotson served in the Marine Corps Reserves until 1970. Following his service, Clive received his
Doctorate of Veterinary Medicine from Colorado State University and became a member of the American College of Veterinary Surgeons. For 40 years, Clive had a veterinary practice in Costa Mesa, California. He was awarded a Life Membership in the Southern California Veterinary Medical Association. Upon his retirement, he and his wife moved back to Harpswell, Maine.
During his years in California, Clive enjoyed sailing and was a member of the Balboa Yacht Club, tennis as a member of the Vic Braden Tennis Club,
and belonged to Ducks Unlimited, carving decoys for competition. Clive was also an active member of the Scottish Country Dance community. Continuing from life in California to his retirement life in Maine, horses, dance, music and plying his artistic talents filled his time in retirement. He
could be seen driving his horse in the carriage or sleigh, caring for local pets, enjoying dancing with the Scottish Country Dance Society in the
North East region, playing penny whistle with the group Fiddle-icious or in a jam session of like-minded musicians. He spent time sketching and
painting: mostly favorite locations in Scotland, Harpswell water scenes, and wildlife. He built ship models and sculpted horses that were then
bronzed. He had a joyful, playful spirit, and always loved talking with people!
Clive was predeceased by: his parents Marjory Goodwin Tillotson and Frederick E Tillotson.
Survived by: his wife Patricia; a daughter Kirsten and her husband John and by his son Scott; grandchildren Scotia, Killian, Ronan, Vienne. Step-children Karl and his wife Gayle, Elise her husband David, Eric and his wife Dawn; grandchildren Bryanna, Allison, Ellen, Sarah.
There is no service. There will be a private family gathering in the Spring.