« Obituaries | Michele E. Thurlow
Michele E. Thurlow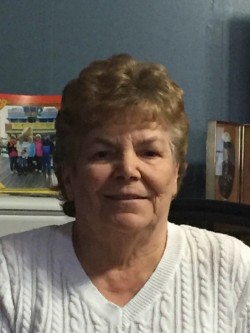 Date of Death: February 15, 2021
Date of Birth: December 10, 1943
Biography:
Michele E. Thurlow, of Lewiston passed peacefully surrounded by her children on February 15th, 2021 at the age of 77 after a long battle with kidney disease. She was born in Lewiston on December 10th, 1943 to parents Philip and Beryl (Jordan) Melanson.
She will be dearly missed for her love of family, sharp, witty and sarcastic sense of humor.
Michele was a Red Sox fan, and also enjoyed watching Jeopardy, and Tucker Carson. Her hobbies included volunteering at CMMC, Beano, crosswords, dancing, and gardening. She especially loved family gatherings.
Michele is survived by her son, Jeffrey and his wife Susan Thurlow; her twin sons Donald and Ronald Couture; her daughter JoDee and her husband Jeff Brannen; her beloved grandchildren and great grandchildren; and her cat Midnight.
She is predeceased by her husband, Arthur Thurlow, who she has joined in Heaven.
A memorial service will be held at 1pm on Friday February 19th at East Auburn Baptist Church 560 Park Ave. Auburn Maine.