« Obituaries | Wally "Rebel" O. Thompson
Wally "Rebel" O. Thompson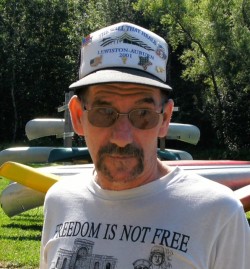 Date of Death: June 7, 2014
Date of Birth: July 6, 1952
Biography:
Wally "Rebel"Thompson, 61, of Lewiston, passed away following a long battle with cancer on June 7th, 2014 at the Hospice House in Auburn with his family by his side. He was born in Biddeford on July 6th, 1952 to parents Herbert L. and Anna J. (Shuffleburg) Thompson.
Wally attended Kennebunkport Consolidated schools and attended Kennebunk High. He served in the United States Army from 1972-78. He later worked in maintenance for D.V.E. Manufacturing, and spent many summers working at the Fryeburg Fair.
Wally spent a lot of time at the #1 Flea Market enjoyed collecting all types of stamps and coins, he liked to travel and enjoyed drives to the ocean and to visit lighthouses. He was also fascinated by the civil war and enjoyed re-enactments and collecting memorabilia.
He was predeceased by his parents; four brothers, Harold Welch, Maynard, Welch, and Roger Butch Welch, and Richard Thompson; and a sister, Geraldine Moreau.
Wally is survived by his wife, Connie; his daughter, Michelle Gionest; two stepdaughters, Lisa Ali of Maryland, and Tina Merritt, of Auburn; two brothers, Sherman Thompson, and Frank "Herbie" Welch; two sisters, Eleonor Gagne, and Christine Camire; 1 grandchild; 1 great-grandchild; and 4 step-grandchildren.
THOMPSON-Wally O., 61, of Lewiston, died in Auburn, June 7th, 2014. A committal service will be held at 2pm on Thursday, July 3rd, 2014 at the Maine Veteran's Cemetery, 163  Mt. Vernon Rd. in Augusta. In lieu of flowers, donations may be made in memory of Wally to Androscoggin Homecare and Hospice, 55 Strawberry Ave., Lewiston, ME 04240