« Obituaries | Shirley Thomas
Shirley Thomas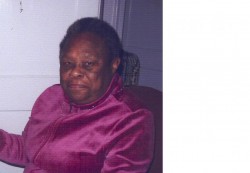 Date of Death: March 19, 2010
Date of Birth: May 30, 1942
Biography:
Shirley Thomas, 67, of Montello Manor, died on March 19th, 2010 at Central Maine Medical Center.
She was born on May 30th, 1942 in Jamaica.
She enjoyed listening to music, dancing, attending church, bible study, cooking, motorcycle rides, talking with friends, and spending time with all the families and different friends she had. She touched many hearts and lives of those who knew her and she will be sadly missed by many including the staff at Montello Manor.
Survivors include Mrs. M. G. Jean and family of Lewiston; Parker family; Adams family; foster family Hussand, Rab, Daub and Weezie; Nicole Bowie Collins of Augusta area; Ann French and family; Jo Lynn Clark; and  Ken, Darla, and Aisha Allen family of Lewiston.
Shirley's friends would like to thank the staff at Montello Manor for their wonderful care.
All are invited to a memorial service on Thursday, March 25th, at Unity Bible Church, Lewiston. In lieu of flowers, donations are preferred to Unity Bible Church, 541 College St., Lewiston, ME 04240.