« Obituaries | Anne Taylor
Anne Taylor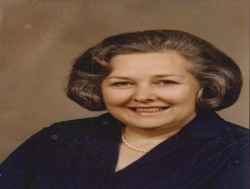 Date of Death: January 12, 2016
Date of Birth: December 28, 1930
Biography:
BATH - Anne Taylor, 85, passed away peacefully under the care of CHANS hospice and the loving care of HillHouse Assisted Living in Bath, Maine on January 12, 2016.
Anne was the daughter of Byron and Mabel Smith of Chicago, IL.
Anne married Joseph Lawrence Taylor on June 27, 1953, and lived in Chicago and Evanston before moving to Skokie IL, where they renovated a home and settled down and raised their family.
Anne is survived by her loving husband and three children, Cynthia Ann Jaynes and granddaughter Natalie Clay, son James Lawrence Taylor, and daughter Kathleen Ann Taylor.
Anne enjoyed collecting dolls, especially those of the Victorian variety and dress. Anne was an expert seamstress and donned herself and her children with matching outfits. Anne enjoyed making doll clothing to fit with the seasons of the year and holidays in which they were displayed. Anne was a woman who epitomized gracious living.
Anne was an artist when it came to decorating her home. During the holidays each room in her home was so spectacularly dressed for the occasion and season; it was like walking into a Home and Garden magazine. No detail was left out as she patiently took the time to place every ornament, decoration and flower in their most proper place. In every nook and corner nothing was missing; every shelf and tabletop had their own theme.
Anne may have missed the Victorian Age, but in her home she lived victoriously and made every guest who visited feel so welcomed; they often felt like they were a part of the wonderful home she loved with her family!
Memorial Mass will be held at St. Lambert's Church in Skokie, IL on Saturday, Feb 13 at 5 PM and Sunday, March 20 at 10 AM.
In lieu of flowers, donations can be made to Catholic Charities of the Archdiocese of Chicago - http://www.catholiccharities.net/DonateNow/MemorialHonorGifts.aspx
~or~
www.joycemeyer.org Hand of Hope, Human Trafficking Rescue.