« Obituaries | Albert Sylvain
Albert Sylvain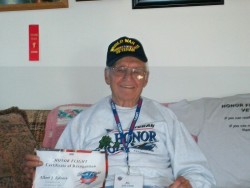 Date of Death: November 23, 2020
Date of Birth: February 24, 1923
Biography:
Albert Sylvain, 97, of Auburn passed away on Monday 11/23/2020 at Clover Healthcare Nursing unit in Auburn Maine. His health had been declining since the Covid-19 pandemic and had recently been receiving extra care from the Androscoggin Hospice Health staff. The good Lord called Al home on November 23, 2020 he died a peaceful death.
Al was born on February 24, 1923 in Connors New Brunswick, Canada the son of the late George and Gertrude (Oakes) Sylvain when he was still a young baby the family moved to Maine where his mother was born. For many years after grammar school he worked in the woods with his Dad cutting and hauling timber until the time that he was drafted as World war 11 was breaking out. He served in the Air Force and was stationed in Biloxi Mississippi and while there Al served as a cook for the troops and was eventually promoted to the rank of Staff Sargent and was nicknamed 'Cookie' which he found somewhat amusing as it was also the same name the loggers had called him when he worked in the woods and from time to time would have to step in as cook for the logging crew when needed. One of the most memorable highlights of his life was having gone to Washington D.C. with the Maine Honor Flight as a WWI 1 Veteran.
During one of Al's Military leaves he met the love of his life Lucia Eva Bannister of Lewiston, and on Feb 25 of 1943 they were married. They would go on to raise two children, a daughter, and a year later a son. They were parishioners of St. Joseph's church in Lewiston and as the children grew they attend St. Joseph's school. When the kids were still in school Al, with some local neighborhood dads on there time off built a skating ring across the street from Al's home on Elliott Avenue in Lewiston which also featured side boards around the rink for the hockey games that would be soon be played there also built a, warm-up snack shack, where the neighborhood kids could warm up, ice skate and the hockey enthusiastic neighborhood boys would have a place to play hockey, that was the start of the first Elliott Ave hockey club in Lewiston. Competition games would be played among hockey clubs throughout different parts of the city. Al and some of the other dads would be out late at night flooding the rink with garden hoses getting the ice ready for the next day when kids and families from all around would come for the fun entertainment and watch the hockey clubs compete when games where scheduled. Al and Reggie Masse didn't miss any hockey games, they were both there not missing a game coaching the boys that played on Elliott's 1St hockey team. Good times were had by all as the precious seasons came and went. That one one of Al's fondest memories.
For many years Al was employed at Delar Manufacturing Inc in Lewiston assembling aluminum windows and doors including various installations Al decided to start a small repair business. Still working full time at Delar Inc. he started working part time nights and weekends out of his home on Elliott Avenue and went by Alco Repair Service doing glass, screen and home repairs and eventually started contracting work from Delar Inc. installing windows doors for Delar and began selling home improvement products from the family home. In a few short time sales and work grew and the family home had become to small. Al needed a larger place to operate his business so he bought a building on upper Main Street in Lewiston, and started the move fromhis home on Elliott Avenue to his new location on upper Main Street and changed the name to Alco Aluminum Products of Lewiston. In short years, with the help of his son he would turn his new business location into a full blown thriving successful home Improvement center Al's wife Lou, who for years had been employed at a local shoe shop in Auburn gave her notice to help with the growing family business by taking over the office work. It wasn't long before sales and installations eventually expanded throughout much of the state of Maine.
As business grew in proportion and remained stable. Some thing else was on the horizon.
Al and his son both having experience in food especially an all time favorite, from scratch, hand made, Italian pizza, and also being a family favorite, with the overweening approve from family, the work was on to build a Pizza shop directly across from the home improvement center and located on the same plot of land they would work on days off, nights, and weekends, and we preceded to build the pizza shop as time went on we hired other construction specialist as needed. When it finally opened it we named the new shop Krissy's Pizza and featured all the usual pizza shop goodies.
It was a well received by upper Main street businesses and folks from all around. It also capturing a portion of the Main street harness race drivers and fans. It was a new venture and started off with family stepping in to help. It turned out to be a neighborhood hit.
Actually it was feeling more like an entertainment break, after completing a hard day's work at Alco Aluminum Products.
Al was a hard worker, and cherished his family and home by the lake at Barnard Cove in Greene he loved hanging out with his family especially his grandchildren they were special. the most precious times in Al's life were spent with his grandchildren. He would spent as much time as possible with his loving family especially his grandchildren whom he so much enjoyed being with. There were loving, fun times, something exciting all year long. Summer outside cookouts were unmatched it didn't matter if it was grampy's famous Pizza right out of his hot pizza oven, or a smoky watering juicy roast beef cooked over, a barbecue fired smokey spits, from Bucky's General Store, in Greene, or a yummy fresh lobster pick right out from our families lobster tank at Misty's Swap shop, also located at the Greene IGA Plaza and cooked to perfection for everyone to enjoy.
The most special enjoyable times were when Al's daughter Lori Hampton and husband Dan and children would come from Vermont.
These particular times were Al's unforgettable Highlights in his eyes his look when he was around any of his grandchildren would bring out the very best of a loving granddad.
Al was a good loving dad always looking out for his family.
He was a quiet man but a very good listener. He had an inviting smile and a gentle heart. He enjoyed listening to old time western music and enjoyed playing music on instruments he collected. He could dance all night and especially enjoyed square and polka dancing. In his later years he learned to paint on canvas and wood. His art will be treasured by those with whom he shared. His sense of humor, his laughter and his calming nature will forever be missed.
Al was pre deceased by his wife, Lucia Eva Bannister, who died on Sept 17, 1985, two brothers, Wilfred, and Edmond 'Shorty' Sylvain and a sister Stella Labbe and his granddaughter Maureen.
He is survived by his daughter, Lorette Hampton and her husband Dan of Hartland Vermont and his son Albert R 'Bert' Sylvain of Lewiston. His grandchildren Shanna, Misty, Patrick, Carl, Butch, Valerie, Danny, Kristine, and Marc
He is also survived by his present wife Helen (Morin) Sylvain and her children and grandchildren. He also leaves several grandchildren, great grand children, great great grand children and nieces and nephews and Joline and Jerry Silva and their children who he was especially close to.
The family wants to thank Clover Manor of Auburn and Androscoggin Health-care of Lewiston for its loving compassion, and heroic care for Al.
Thanks also goes out to the staff at St. Mary's Residential Community and the cherished friends that gave Al love, friendship, care, safety and purpose during his years in your community.
Visiting hours will be held from 2-4pm, on December 2nd, 2020 at Funeral Alternatives, 25 Tampa St. Lewiston, Maine. A Funeral Mass will be held at 11am on Thurs. December 3rd, 2020 in the small Chapel at the Basilica of Sts. Peter and Paul in Lewiston.
In lieu of flowers donations can be made to Androscoggin Home Care and Hospice, 15 Strawberry Ave. Lewiston Maine 04240.