« Obituaries | John K. Sweek
John K. Sweek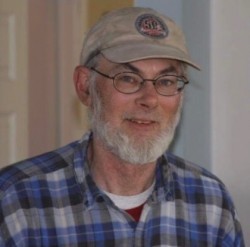 Date of Death: February 21, 2018
Date of Birth: June 17, 1952
Biography:
TOPSHAM - John Sweek, 65, died peacefully on February 21, 2018 at Mid Coast Hospital after a battle with dementia and a brief illness. He was born June 17, 1952 in Rockville Center, Long Island, NY, of John G. Sweek and Phyllis Kincaid. He is survived by his daughter, Rebecca and her husband Dave and their children Mira and Kai; his son, Benjamin and his wife Megan and their children Marquise and Carter; and sisters, Bonnie and Lisa.
John was a skilled carpenter and his work ranged from home restoration to fine furniture making and everything in between.
John loved animals, coffee (but never hazelnut), chocolate Neccos and cheeseburgers. He loved canoeing and camping trips, the JFK conspiracy and time travel theories. His only regret is not seeing a man on Mars. He was an avid reader and movie buff, quoting them at every turn. He was famous among family and friends for this.
A celebration of life will occur this summer where John and family will take one last canoe trip and he will be laid to rest next to his father. In lieu of flowers, donations can be made to Greater Androscoggin Humane Society, 55 Strawberry Ave., Lewiston ME 04240.
"Nobody, I mean nobody, puts ketchup on a hotdog." - (Dirty) Harry Callahan, Sudden Impact
"We're not gettin' outta here alive." - R.J. MacReady, The Thing