« Obituaries | Gunner Dana Swanson
Gunner Dana Swanson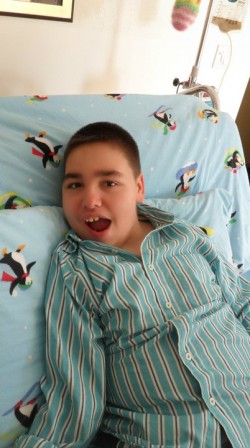 Date of Death: April 11, 2013
Date of Birth: May 18, 1997
Biography:
Turner- Gunner Dana Swanson, 15 years old of Turner Maine passed away April 11, 2013 at his home surrounded by his family and friends. After battling multiple disabilities and illnesses he is finally at peace.
Gunner was born May 18, 1997 in Portland, Maine. He spent the first 4 months of his life in the NICU proving for the first but certainly not the last time that he is nothing but a fighter and a miracle. He loved his siblings, Shannon and Mac, fiercely. He lit up a room with his infectious smile and laughter. He lived his life to the fullest and taught all others that the little things in life were what mattered most.
He is survived by; his parents Manuela and David, his sister Shannon, his brother Mac, his step mother Audra and his step father Keith, among countless family and friends.
Visiting hours will be held from 4-6pm Friday April 19th at Funeral Alternatives of Lewiston. The Funeral Service will be held Saturday April 20th at 2pm at Grace Community Church of Auburn. Followed by burial at Turner Village Cemetery. In lieu of flowers please send a donation in his name to the Make-A-Wish Foundation. Condolences may be expressed at funeralalternatives.net
"May Angels Lead you In"
I carry your heart with me, I carry it in my heart.
I am never without it Anywhere I go you go my dear,
And whatever is done by only me is your doing my darling.
I fear no fate, for you are my fate my sweet.
I want no world, for beautiful you are my world, my true
You are whatever a moon has always meant
and whatever a sun will always sing is you.
Here is the deepest secret nobody knows
here is the root of the root and the bud of the bud
and the sky of the sky of a tree called life; which grows
Higher than soul can hope or mind can hide
and this is the wonder that's keeping the stars apart
I carry your heart with me, I carry it in my heart.
- E. E. Cummings