« Obituaries | Anthony Swan
Anthony Swan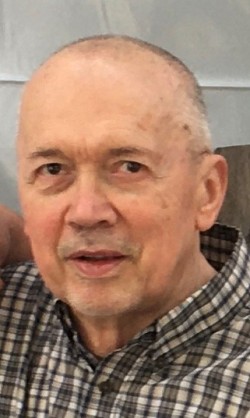 Date of Death: January 17, 2022
Date of Birth: March 2, 1945
Biography:
Anthony Swan of Lisbon Falls, also known amongst those within the community as Tony,
went to be with his Lord and Saviour, Jesus Christ, in the early hours of January 17th
2022. Anthony married Peggy Anne Popodak in Lisbon Falls on August 13th 1966, having
a blessed marriage of 55 years. Together they built a legacy, a family with many
memories to Cherish. Tony conducted business within his community as a builder, he
was well respected and had a hand in many projects, including the use of his gifts and
talents within the Christian community. Peggy (of whom he loved very deeply and with
much affection), with a quite spirit and soft heart supported him in all his endeavors
walking hand in hand throughout life with unity of spirit. These two were known
throughout town, of walking together regularly holding each other's hand and smiling.
When Anthony became sick with Parkinson's disease, his wife took care of him for more
than 8 years till he needed greater care, yet separated, still together in spirit through
phone and visits till the very end when he heard her voice and expressed joy
unspeakable.
Under the power of the Holy Ghost and the Word of God, Anthony was born again in
1973 and Peggy soon after was converted to Christ in 1974. Together they set out to
follow Jesus in all things. One thing that gave him joy was to share the Gospel of Jesus
Christ whenever and to whomever possible so that all would have an opportunity to be
saved from their sin and have fellowship with the God of heaven and His dear Son, Jesus
Christ. Anthony was a good listener and very patient, giving full attention to those who
wanted his attention and enjoyed conversation with all, and if you knew his triggers, you
could get him into a laughing frenzy. He is loved and will be missed greatly.
Anthony, known as brother, is survived by his 5 siblings starting with Lucille Markus 80,
Maximillian Swan 78, Cathrine May Fullerton 74, Joseph Swan 72, and Michael Joseph
Swan 71. Known as Dad and Daddy, Anthony is survived by 8 children, starting with Lisa
54 with her husband Bob Jalbert, David 53 with his wife Raeleen, Thomas 51, Anne 49
with her husband Randy Labonte, Peter 48 with his wife Rebecca, Daniel 47 with his wife
Arlene, Donna 46 with her husband Randy Couch, April 36 with her husband Chris
Winner. Anthony, known as grampa, is survived by 28 grandchildren and 8 great grand
children, all of whom he loved and prayed for. Anthony is predeceased by his parents
Irving and Veronica Swan, his grandson Zain Swan and his great grandson Jackson Swan
of whom he knows, now, in heaven
Anthony's funeral is at Open Door Bible Church in Lisbon Maine, on Friday, January
28th at 3:30 p.m. with his viewing , prior to 4:30 p.m. funeral service.