« Obituaries | Dean A Strout
Dean A Strout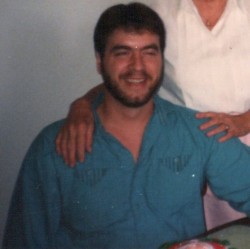 Date of Death: July 5, 2023
Date of Birth: December 20, 1963
Biography:
Dean A. Strout 59 passed away at the hospice house in Auburn on Wednesday July 5th 2023. He was born on December 20th 1963 to Reginald Strout Sr. and Joanne West. 
 He graduated from Oxford Hills High School in 1982. He worked in various hospitals and power plants as a boiler room engineer. Dean enjoyed living life to the fullest, riding his motorcycle. He would help anybody that needed help. He was a loving man and will be deeply missed.
 He is survived by step mother Sue Strout, brother Scott and his wife Tina Strout. Half brothers Reginald Jr. and his wife Claire Strout, Brian Morris and David Rugg. Half sisters Debra and her husband Bill Washburn and Penny Creamons.
 He was predeceased by his mother and father and half brothers Dale Strout and Randall Rugg

 A celebration of life will be held at a later date