« Obituaries | James (Papou) J. Stroumbos
James (Papou) J. Stroumbos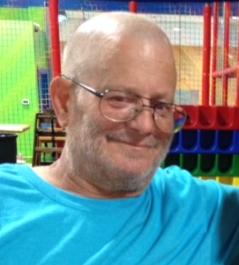 Date of Death: April 1, 2015
Date of Birth: March 4, 1958
Biography:
James John Stroumbos, Papou, of Old Orchard Beach, Maine was born March 4, 1958 and passed on April 1st, 2015.  He was born to James T. and Rita E. Duffy Stroumbos in Tripoli, Libya while his father was on active duty.
James attended school in Chicopee, Massachusetts where his family still lives. James graduated from Holyoke Catholic High School in 1976.
James enlisted into the United States Navy January 1st, 1977. He traveled to various naval ports including North Carolina, Florida, Virginia, Hawaii, Connecticut, Minnesota, and Maine before he retired in 2004. James served on several ships including the USS Henry Clay, SSBN 625 Gold, USS Flying Fish, sub base Pearl Harbor, Hawaii, USS Dace, Submarine Squadron 10, USS Whale 691, NAVSOC Rose Mont, Minnesota, USS Memphis, and 609 Kittery.
In 1992, James was married to Melody Bishop, and blessed with daughter Jill Bishop Avery and her husband Ryan Avery.  In 2006, his pride and joy, Henry Avery became his grandson.  He is preceded by his dad, James Stroumbos, and both sets of grandparents.  His mother, Rita Duffy Stroumbos, lives in Chicopee Massachusetts. James has three siblings, Teddy Stroumbos of Springfield, Massachusetts, Duff Stroumbos and wife Kim of Denver, Colorado, and sister Gina Pickard and husband Kenny Pickard of Palmer, Massachusetts.  James also has 18 nieces and nephews. James has had two best friends for the past forty years, Billy Sullivan and Tommy Paquin.
After retiring from the Navy he began working for the US Postal Service in Scarborough, Maine until he retired in 2011.
James was a great collector of books and loved lawn sales.  James fought a heroic battle with his health during the last four years.
Services for James will be held at the Maine Veteran's Memorial Cemetery Chapel on Mount Vernon Ave. in Augusta on Monday, April 6th at 2:00 PM with a reception to follow at Rooster's Restaurant.  James will be buried at the Maine Veteran's Memorial Cemetery in Augusta, Maine. In lieu of flowers, donations may be made to the food bank in Gardiner, Maine.
Honorary pall bearers are cousins Frankie, Danny, Steven and Scotty Garcia, friends Bill Sullivan and Thomas Paquin and grandson Henry Avery.
James's family would like to send a heart-felt thank you to the medical professionals who cared for him at the end of his life, including Augusta Center for Health and Rehabilitation, Beacon Hospice, and especially the staff at Togus Hospice and Palliative Care.  These individuals all helped to make James comfortable and his family feel welcomed and well cared for.