« Obituaries | Nan Taylor Stockman
Nan Taylor Stockman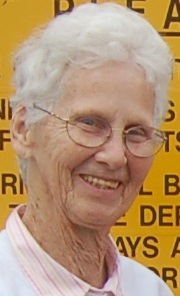 Date of Death: January 18, 2016
Date of Birth: December 21, 1927
Biography:
Nan Taylor Stockman, age 88, of Orr's Island, Me, passed away on January 18, 2016 at Sunnybrook in Brunswick, Me
Nan was born as Nan Clarke Taylor on December 21, 1927 to Arthur Jennings Taylor and Nelly "B" Baber Taylor in Suffolk, VA. (The peanut capital of the world). She went to public schools in Suffolk graduating in 1946. She loved playing basketball there. Nan attended Mary Washington College graduating 1950. During the summer months while attending Mary Washington she ran the tennis program at Camp Kinikinic in Vermont. She then worked in Social work for a year before attending RPI (VCU). She then returned to social work in Tidewater VA area.

While working in Portsmouth VA she met Navy Lt. Charles Stockman Jr. They married on March 20, 1954. They then moved to Cambridge, MA, where Charlie (Jim) completed his MA in International Relations from Harvard. Nan continued her Social work in Boston, MA. After graduation they moved to Northern Virginia where Charlie got a job with the Navy Department and then the Budget Bureau and Nan worked for the City of Alexandria as a Social Worker, where she worked until their son, Reed Jennings Stockman was born on August 1, 1957. She then left her position to raise her family. The family moved to Falls Church, VA where their daughter, Susan Stockman was born on May 31, 1960.

In 1966 Nan began her love for living overseas when Charlie was assigned as an Assistant Director for Program for USOM (USAID). While in Thailand she co-founded the "The Work Study Group" composed of American women in support of the National Museum programs.

In 1970 Nan and Charlie moved to Lorton, VA. While residing in Lorton Nan helped start Lorton Community Action Center. LCAC is an organization providing food, clothing and financial assistance to needy families in the Lorton area. Because of Nan's inspiration two other generations have volunteered their time and talents for the betterment of the Lorton community.
In 1976 her husband Charlie was assigned to Boliva by USAID, where they lived until 1978.
In 1979 they went to El Salvador where Charlie served as USAID Director. Nan returned to Virginia in December 1979 to be with her mother who was ailing.
Nan went to Grenada in the Caribbean just after the US "incursion" there in the middle 80's. She helped the blind with establishing a center for services and artisan products made by the blind.

From just after WWII, as renters and owners, Nan became an integral part of the Great Diamond Island community. Some of her favorite projects were reopening the store at Elewell Hall and GDI Land Preserve.

In 2000 Nan and Charlie became full time Maine residents when they purchased the Pearl House on Orr's Island. Nan became active in Mingo and Pat Robinson's exercise group.

Nan was preceded in death by her father, Arthur Jennings Taylor, her mother Nellie "B" Baber Taylor and brother, Charles William "Buck" Taylor II.

Nan is survived by her husband, Charles "Jim" Stockman of Orr's Island Me, son Reed J Stockman, his wife Kathie and their children Taylor and Kelly of Fairfax Station VA, daughter Susan S. Snow and husband Michael of Lorton VA, a sister Phyllis J Taylor of Alexandria, VA. She also is survived by several nieces, nephews and cousins.

Please, no flowers, but condolences can be sent to the family care of:

Charles Stockman
340 Bath Road, Apt 120
Brunswick, ME 04011
Phone: 207 443-5488
gdichaz@aol.com

If you would like, a memorial contribution can be made to the GDI Land Preserve (contact Jane Laughin at grtdia@aol.com) or Preble Street (http: www.preblestreet.org/you-can-help/donate/)

There will be a celebration of Nan's life this summer on Great Diamond Island.