« Obituaries | Roxann Shirley Stobie
Roxann Shirley Stobie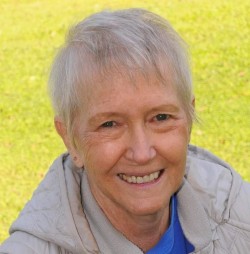 Date of Death: December 29, 2020
Date of Birth: May 28, 1950
Biography:
Augusta- Roxann Shirley Stobie of Windsor, Maine passed away on 12/29/20 at Maine General Medical Center, Augusta, Maine, after a long, brave fight with cancer.  She was born on May 28, 1950 to Shirley and Charles Hunsinger.  However, she was raised by her grandparents Arthur (Buddy) and Lena Smith.
Roxann attended Orono High School and Beal Business College, proudly achieving two Associates Degrees.  She enjoyed traveling, crafting and spending time with family.  Her career included responsible positions as Office Manager and Accountant in Maine and Florida.
She is survived by her husband, Sandy McPherson, her daughters Heather Stobie , Mary Dacey and husband Joe,  grandchildren Morgan and Rob and great-grandchild Ava.
She is also survived by stepdaughter Shell Lacey and husband Alan and grandchildren Fletcher, Grace, Faith and Seth, stepdaughter Kathryn Perrin and husband Chris and grandchildren Henry, Charlotte and Zoë.  She is survived by three sisters (Sharon Breen, Diana Ouellette and Pam Walker) two brothers (Leslie and Chuck Hunsinger) and their loving families, as well as her mother, Shirley Edwards. 
She leaves behind two fur babies, Bella and Callie.  She is predeceased by her father, Charles and stepson Sean McPherson.
Roxann was a loving wife, mom, sister and daughter. She will be missed beyond measure.
A Celebration of Life will be held at Windsor Christian Fellowship on Thursday, January 7, 2021 from 11am to 2pm.  In lieu of flowers, please consider a donation to St. Jude's Children's Hospital, or Windsor Christian Fellowship.
Condolences may be expressed at www.funeralalternatives.net