« Obituaries | Allan G. Stewart
Allan G. Stewart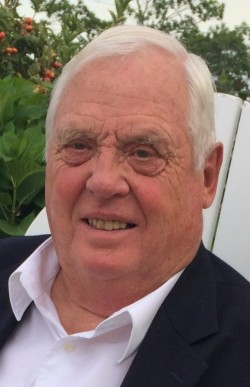 Date of Death: January 7, 2019
Date of Birth: October 17, 1938
Biography:
BRUNSWICK - Allan G. Stewart, 80, of Brunswick, died in Bath on January 7, 2019, after a long illness.
Al was born in Bath, October 17, 1938, the son of Donald A. and Hulda (Pushard) Stewart. He graduated from Morse High School 1957, and from Burdett College in Boston 1959. He returned to Bath to work at Bath Savings institution, (BSI) until he was drafted into the US Army for two years, serving 18 of those months  in the early 1960s in Germany. After his discharge he returned to BSI and also worked at First Federal Savings , retiring as a loan officer at BSI in 2004. 

Al was an avid sports enthusiast,  and was a true fan of the New England Patriots, Celtics, Bruins and  Boston Red Sox . Al enjoyed fishing, often with a cold  beer, on the New Meadows River in Phippsburg for over 50 years, and had many good fishing holes which he would not divulge, although he was often seen heading for Honeymoon Island. He also enjoyed fishing in international as well as southern US waters.

Al was a corporator of Bath Savings and Mid Coast Hospital, a life member of Bath Lodge of Elks and a member of Meadowbrook Yacht Club.  

He married Mildred Ellen Simpson of Brunswick in 1967.  He is survived by his wife; son Derek and his wife Suzann and grandsons, Christian and Liam of Brunswick; daughter Ellen Stewart and husband Allan Wahl and grandson Samuel Wahl of  Shoreline, WA;brother-in-law Dale Hodgkins of Brunswick, four nephews and their families. Richard and Larry Hodgkins of Bath, Jack and Jeffrey Meyer of New Jersey; niece Cindy Thurston and husband Ray of South Waterford, and Millie's niece, Martha Simpson of Harpswell, as well as several cousins and many friends.

Al was predeceased by his parents and his sisters, Donna Stewart Hodgkins of Brunswick and Barbara Stewart Meyer of New Jersey.

A time of remembrance and celebration of life will be held in the summer.  In lieu of flowers, since Al was an enthusiastic alumnus of Morse High School, memorial donations in his name may be made to the Morse High School Scholarship Fund, c/o Lauri Rainey, MHSSF treasurer, First Federal Savings, 125 Front St., Bath, ME 04530.